Corel has released Painter 12, a new version of the company's flagship painting software. The upgrade features new brushes and art tools, customizable workspaces, and a performance boost.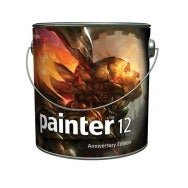 "Our Painter community has always been the driving force behind our development priorities," said Andy Church, Painter's product manager. "Our goal is to consistently provide our artists with powerful tools that enable them to expand and express their creative visions and to achieve the most stunning and realistic results possible. Our artists provide the inspiration and Painter provides the power, freedom, and control, unmatched in any other creative environment."
New brushes and tools
Painter 12's new brushes include Real Watercolor and Real Wet Oil, which are designed to recreate the liquidity and viscosity of flowing and blending paint, water or solvent, and textures.
The Real Watercolor brush blends and dries more realistically than other watercolor brushes. Plus, you can control wind direction for drying, and watch colors interact with paper grain and change pigmentation in a natural way. You can also customize your paper texture settings to determine how the paint flows and pools on the canvas. The Real Wet Oil brush offers an enhanced method of blending and painting flowing colors to intensify a sense of realism. Adding solvents to the canvas provides even more control.
The new version offers new "progressive" tools for artwork that go beyond replicating real-world media. For example, the Kaleidoscope tool lets you use your choice of brushes to paint patterns and colors, using 3 to 12 mirrored planes. The Mirror painting tool copies every stroke onto the opposite side of the canvas. You can choose whether strokes are mirrored horizontally, vertically, or both.
A new Clone Source palette offers an assist to working with photos by letting you create and manage numerous images for cloning within a single file. You can create a library of objects to be cloned and then inserted into a painting.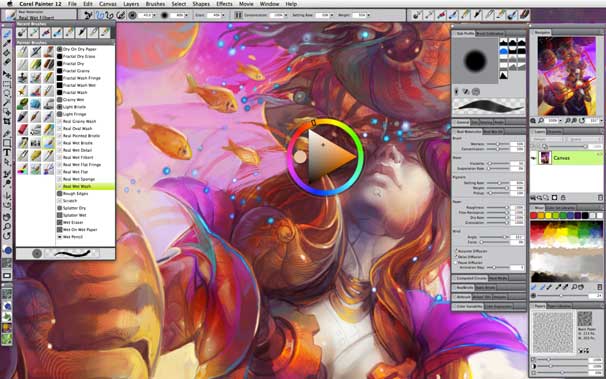 Performance boost
Painter 12 has been optimized for speed. Corel says this version's brush performance is 3 to 5 times faster than the previous version and that other tasks such as opening, flattening, flipping, and blurring images is up to 3 times faster. Multicore brush support is designed to maximize brush performance when working on a multicore computer, the company says.
While the Windows version of Painter 12 features 64-bit support at the new version's launch, Mac 64-bit support will come later in this upgrade cycle.
Workspace improvements
Painter 12 introduces a redesigned and customizable user interface that aims to streamline brush selection, libraries, color controls, and image setup.
A new Navigator Panel makes it easier to work with large images. With the Preview window, you can change your focal point on the canvas and move to a different area of the image without switching tools or adjusting the zoom level. You can arrange panels and palettes to suit your workflow.
Brush enhancements
In addition to new brushes, Painter 12 improves brush organization and operation. Painter's brush categories have been consolidated to provide an easier way to find the perfect brush. Interactive controls let you make quick adjustments from a centralized location. Scalable resizing lets you preserve correct brush proportions while shortcuts let you access brush settings more quickly.
Dynamic brush settings let you set the merge mode and opacity for each brush stroke for smoother blending.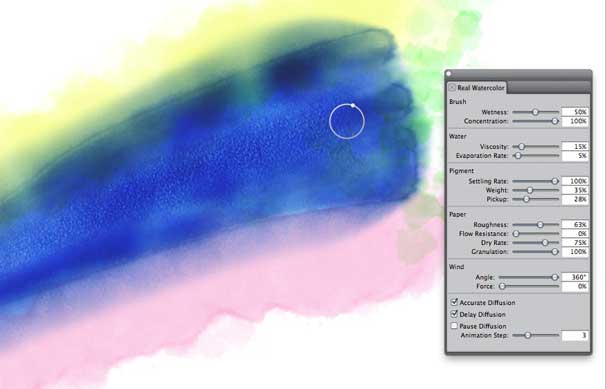 Availability
Corel Painter 12 is available now in North American and International English. Japanese, Korean, and Traditional and Simplified Chinese versions will be available in August. German, French, and Italian versions will be available in September. The program costs $429 for the full version and $229 to upgrade from versions 10 and 11. The Academic version is $99. Commercial and education volume licenses are available.
Painter 12 works with Intel Macs running OS X 10.5 and 10.6.
More information, many instructional videos, and a free fully functional trial version of the software are available from Corel's Website.