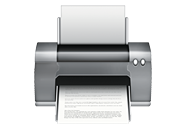 The printing industry is a curious mix of old and new—a world rich with history that harks back hundreds of years, but relies on technology that changes and improves all the time.
The bad part is that dealing with the challenges presented by a print job—from business cards to posters—can be difficult, particularly if you have never worked with a print shop before and don't have the budget to contract a professional to handle the process for you.
The good part is that you probably have all the tools you need to produce excellent printed materials already installed on your Mac, so the real trick in establishing a successful relationship with your print provider is to know what questions to ask. For example, does your chosen vendor accept online jobs? Is your job in a format that your printer can handle? Have you chosen the right paper for the job? Do you have a preference for digital or offset printing for your job?
Consider your options
When it comes to printing, your choice of providers is virtually unlimited; while many professional print shops continue, even in this day and age, to cater primarily to professionals in the field of design, many have at least attempted to simplify their processes in order to become more accessible to customers with simpler needs and tighter budgets.
Therefore, before ducking into your nearest print shop or scouring through the Yellow Pages for a local printer, it's a good idea to check Google for one that does most of its business online. You'd be surprised at how easy it can be to deal with them, and amazed by the great variety of products they are capable of producing. In many cases, you'll also find that the quality of the end product is as good as the one you would get from a local provider, but at a lower price.
Note that many printers you'll find via Google, are also local providers in their communities—maybe your community—so while you may want to support your local printer, consider the possibility that your local vendor also does business online.
Know your files
The first important step toward a successful print job is sending your documents in the right format. Most online print providers have become adept at accepting a wide range of files—from Microsoft Word documents to bitmap images, but most of these formats have a number of pitfalls.
For example, Word documents only render properly if all the fonts they contain are installed on the host machine, which may not be the case for the computer your printer uses. Bitmap fonts, on the other hand, only support a fixed resolution and could make text and line art appear jagged.
The golden standard, then, is to use a format that leaves as little to chance as possible. In the past, this meant using something like Adobe's Encapsulated PostScript (EPS), but, these days, almost every printer will accept PDF files. And this, of course, is great news for us Mac users, since OS X supports PDF natively, making producing perfect documents much easier.
Find the right paper
I've said this before, but let me repeat this important point: when it comes to printing, all things being equal, choosing the right paper for your job is probably one of the most important decisions you'll make.
There are four important factors to consider. The first is the color of the paper—even "white" could mean a number of different shades and hues, with those tending towards yellow (like ivory or cream) being better suited to formal products, like invitations or greeting cards, while cooler whites are more appropriate for image reproduction.
The second element to keep in mind is weight. Heavier paper—made of thicker stock—is perfect for documents composed of individual sheets, like posters, pictures, or business cards. Thinner paper is usually better for multi-page documents, but the lighter the stock, the cheaper it will feel in your hands.
Your third choice will be one of shine. Glossy paper brings out the vibrance in colors, which makes it particularly appropriate for photographs and art. Matte paper, on the other hand, produces a more readable output by reducing glare and reflection, and is therefore better for text. Glossy paper also tends to be more difficult to write on—something to keep in mind if you're printing things like reply cards or forms.
Finally, you'll have to decide whether you want your paper coated. Coatings make paper more resilient to scratches and scuff, ensuring that it continues to look better for longer periods of time.
Understand how your documents are printed
Printers will typically print your documents using one of two methods: digital or offset.
Digital printing is performed using machines that compose each document directly from its digital representation—basically, the same way the printer in your office does. Obviously, print shops use professional equipment which produce better-looking output than your personal inkjet, but, generally speaking, a digital press trades quality in favour of speed and cost.
Offset printing, on the other hand, works by first etching your document onto a set of metallic plates (typically one for each primary color), and then using the plates to transfer ink onto paper in the right places.
Offset printers produce much better output then their digital counterparts, but are much more complex—and, therefore, expensive—to operate. To put things in perspective, it's not unusual for one of these machines to require hundreds of wasted sheets of paper to "make ready," that is, to uniformly ink up all the plates so that they can be used for printing the final product.
To make offset printing more affordable, providers sometimes collect several jobs from different clients together onto a single, large sheet design—a process known as gang-run printing. This can give you access to a better quality print job at a reasonable price, but at the cost of longer wait times.
Embrace the process
Despite its many quirks and the sometimes odd mashing together of old and new technologies, the world of professional printing is easier to navigate now than ever, particularly given the way the Internet has simplified the process. Mac users are particularly lucky when it comes to dealing with professional printers, because OS X and its apps can handle all the right file formats with ease.
Armed with a little knowledge, going from digital file to fine printed product should be easy and inexpensive; with a little planning, the look of crisp, fresh ink on paper is just a few clicks away.
[Frequent Macworld contributor Marco Tabini is based in Toronto and can be found on Twitter as @mtabini .]