Adobe got creative juices flowing last month when it teased new iPad apps designed to work hand-in-hand with its new Creative Suite 5.5. The updated suite began shipping last week, and the iPad apps are now available in the App Store.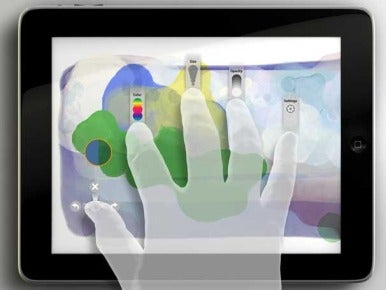 Adobe Color Lava, Adobe Eazel, and Adobe Nav are all companions, at least to some degree, to Photoshop CS5. We took a hands-on first look at each app last month to give you an idea of what Adobe had in store.
Adobe Eazel, for example, is the most independent of Adobe's new iPad apps, as it can serve on its own as a full-featured painting app with a unique tool interface. Both "wet" and "dry" paint properties can be mixed for your creative desires, and you access your tool palette with a five-finger tap. Once you're finished working on the iPad, you can save your creation to the Photos app or instantly send it to Photoshop CS5 on a computer for further editing.
Adobe's two other iPad apps are primarily extensions of Photoshop, offering iPad tools for creating and interacting with your traditional computer. Color Lava is a digital palette that allows painters and designers to use their fingers to mix colors, then instantly send the swatches to Photoshop CS5. You can create custom swatches or even five-swatch themes to use in Photoshop or e-mail to partners in design.
Adobe Nav is a space-saver for panel-happy Photoshop users. You can offload your tool palettes and some other basic operations like browsing files and zooming to your iPad, which leaves more room on your main display for your canvas or other palettes. Adobe Nav's tool area is customizable, so you can keep up to 16 of your favorite tools a finger length away. You can also store Photoshop files in Adobe Nav and show them off while on-the-go.
All three of these apps do double-duty as tech demos for Adobe's new Photoshop Touch SDK. This is a free software development kit that developers can use to build iOS, Android, and BlackBerry apps for controlling or interacting with Photoshop CS5 in a variety of ways over a network connection.
Adobe Color Lava, Eazel, and Nav are available now for the iPad in the App Store at $3, $5, and $2, respectively. You'll need at least iOS 4.3 to use them.