Google officially announced Music Beta by Google, a passive-locker music streaming service compatible with Android devices and Web browsers. Unofficially, Google demonstrated a keen talent for renaming existing iTunes features and presenting them as striking new innovations.
Because, honestly, what Google offers is the answer to this question: "If Apple did nothing more with its music-in-the-cloud strategy than allow you to upload your music to a server, present that music in an iTunes-like interface, toss in a Genius playlists feature, and then stream it back to your iOS device or Web browser, what would it look like?"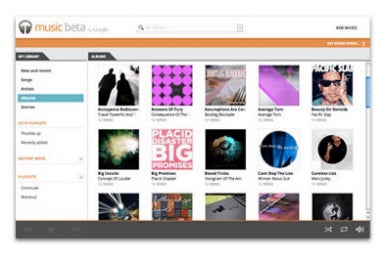 Setting aside the snark, here's the idea. You request an invitation via the Music Beta site. Once you receive that invitation you're allowed to download Google's Music Manager application (available for Macintosh and Windows). You use Music Manager to upload music from your computer—Google mentions uploading your iTunes library but it's a sure bet you won't be able to upload protected music. Playlists and play counts are maintained and you can upload up to 20,000 tracks (or, possibly, the storage-equivalent of 20,000 4-minute tracks). Once you've uploaded your music you can then access it via a Web browser and Android devices.
Among those feature taken directly from iTunes you'll find Instant Mix, Google's "Genius" feature that lets you generate playlists based on a single track. There's also a Cover Flow view of album art (but it's different, see, because the albums move across the screen at an angle).
Music Beta isn't completely a re-imagining of iTunes for the Web. It adds a couple of useful features. The first is its syncing abilities. When you create a playlist on one device—your computer or Android tablet, for example—that playlist is updated for all devices that access Music Beta. Similarly, when you edit those playlists—add or delete tracks, for instance—changes are reflected across Music Beta. Additionally, Android devices automatically cache recently played tracks and you can designate tracks for downloading to your Android device, which is helpful when you can't access the Internet from your device. Downloading tracks to a computer, however, isn't supported.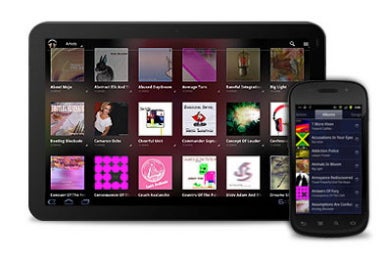 What does this do to move music-in-the-cloud forward? Very little. Google offers no way to purchase music via Music Beta nor stream music you don't own, a la Pandora. This is a passive-locker system, meaning that it requires you to upload your music (and keep a stern eye on any bandwidth cap in the process). Once you do, Google puts a nice interface on it.
An active-locker system is one where you needn't upload your music but rather upload a database of the music you have in your library. You would then stream copies of that music from a central server. The obvious advantage is dispensing with uploading. But, as demonstrated by Amazon Cloud Player (which is also a passive-locker system, but one with a twist), with an active-locker you could have the option to automatically add referenced copies of purchased music to the locker. With Amazon's current scheme, when you download music you've purchased, a copy of the music is added to Cloud Player for streaming for those times when you don't have access to the downloaded copy. (For this to be an active-locker scheme individual tracks wouldn't be added to your Cloud Player but rather referenced from a server.)
Google and many other online entities would love to offer an active-locker system but for the objections of the music companies. These companies seem to believe that such systems will enhance piracy because A) They believe BitTorrent is some variety of GMC truck B) They have never encountered a teenager or C) They're holding out for more money. It's rumored that Apple is exploring option C as part of its just-as-rumored iCloud service.
In the meantime, a reheated version of iTunes, configured for the cloud, is what Google will soon have on offer.
Updated to clarify Amazon's streaming implementation.