To get comfortable with the basics of Garageband on the iPad, I jumped right in and recorded two songs, "I'm Hungry" and "(I've Got A) Colorful House." But, as you might expect, those recordings were a learning experience, and a bit messy, at that—I was too busy focusing on how everything worked to polish them to perfection. On the plus side, with that early tinkering out of the way, I can dive into my third song—"The Barnyard Dance"—with considerably more confidence.
I launch GarageBand on my iPad, tap My Songs in the upper left corner, then tap the Plus (+) button at the bottom of the screen and select New Song. GarageBand immediately prompts me to pick my first instrument. Since the iPad version of the app limits you to just eight tracks, you must choose your instrumentation wisely. (While eight tracks might seem like a lot, I know that between percussion, bass, the main melody part, lead vocals, and harmony, I'll eat up five tracks alone.)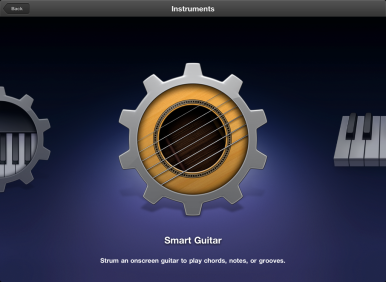 Now, I am at best an amateur musician. Back in my desktop GarageBand phase, I relied on the software's ability to correct my rhythm and misplayed notes, and it took many takes to nail parts down. For some reason, I could practice a part perfectly several times in a row, but get butterfingers on the keyboard as soon as I pressed record.
All that explains precisely why so I feel no shame in starting with one of GarageBand's Smart Instruments—designed by Apple to make it ridiculously simple to create great sounding music—to set my song's initial groove. While I write songs every which way (sometimes starting with the melody, other times with the lyrics, and still other times with the chord progression), with Smart Instruments, mastering the chord progression first feels like a no-brainer—especially since I needn't worry about nailing all the right notes playing on my own.
GarageBand offers four such smarties: Smart Keyboard, Smart Guitar, Smart Bass, and Smart Drums, each with their own unique nuances. The beauty of these tools is that they only make it possible to play notes and chords that sound "right" for your song's key. The Smart Keyboard option, for example, offers notes tied to specific scales, while the Smart Guitar option offers eight complimentary chords in any given key.
I start with the Smart Guitar for "The Barnyard Dance." Each instrument has a preset number of sound styles; the Guitar defaults to Acoustic, but you can also choose from Classic Clean, Hard Rock, or Roots Rock. With my tune in mind, I audition a few chords in each style, but ultimately decide to go with Acoustic—it's the best choice for the song, since I'm going for a folksy, kid-friendly feel.
I've got my initial instrument—but before I record, I need to set my key and tempo. GarageBand defaults each new song to the key of C major, at a somewhat dirge-like 110 beats per minute; I'm certain, however, that any song about a dance at a barnyard clearly needs more pep than that.
To access the settings for my song's tempo and key, I just tap the Wrench icon in the upper-right corner. Changing the tempo is a snap—almost literally. I can tap the beat I want and let GarageBand calculate the number for for me, which helps me avoid a lot of tempo-setting trial and error. I tapped out a tempo that the app calculated at 200 beats per minute. Changing the key is similarly simple: You just select the one you're after. GarageBand uses the key you selected in two ways: It dictates which chords Smart Instruments will provide, and it affects how the app transposes any prerecorded loops you drop into your song. I chose E Major this time around—mostly because the songs I've recorded for the album so far were in D and G Major, and I'm not sure I want to repeat myself just yet. (How did I pick D and G for the other two songs? On a whim.)
Now I'm almost ready to record the guitar part for the intro verse, but I still have one last thing to tweak: The Song Sections setting, tucked away behind the puzzle piece icon in the upper left corner. By default, GarageBand expects that you'll want to record eight measures at a time, and it will automatically stop recording when you finish the eighth measure. You can manually adjust the number of pre-set measures to something more your style; I, however, tend to prefer more freedom (as a safety net in the unlikely event that I'm nailing down a great solo, for example), so I turn on Automatic mode, which records indefinitely until you stop. I learned about Automatic mode the hard way with the first song I tried creating in GarageBand: I was having great fun improvising a bridge, only to discover—to my horror—that the app had stopped recording eight measures back.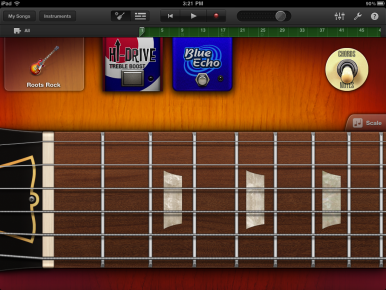 With all that important-but-dull stuff out of the way, it's time to get to the fun part: Actually making music! To play a chord in full on the Smart Guitar, I can tap the chord name above the neck of the virtual guitar, or tap any string to play an individual note within the chord. That's my method. I mean, yes, the app offers more precise control over the notes being played if you toggle from Chords to Notes mode, but since I know next to nothing about playing the guitar, the fret view is largely useless to me. I will say that even if you're musically inept, you can still get some benefit from Notes mode: By toggling a specific scale (like Major, Major Blues, or Minor), you can limit the notes you're able to play; that helps, but I'm still kind of tapping randomly, and that feels more like song guessing than songwriting to me.
I feel no such hesitation back in the comfy confines of Chords mode. I can optionally choose from one of four Autoplay rhythms, if I don't feel like manually tapping a chord multiple times. They're great, though I wish GarageBand offered even more variations, because I don't want my songs to sound like each other, or like yours. But though there are only four Autoplay rhythms per instrument, I'm at least able to tweak the rhythms by tapping with two or three fingers on a chord, instead of just one. (It's worth noting that fitting three fingers into a chord to trigger an alternate rhythm is about the most complexity my amateurish hands can handle.)
Back in my BC era (Before Children), figuring out a song's initial chord progression was the most time-consuming part of my process. Thanks to Smart Instruments and Autoplay, figuring out this progression is greatly simplified; I can quickly tap out a temporary track and form the overall song's structure, and potentially go back later to replace the Autoplayed part with more custom rhythms.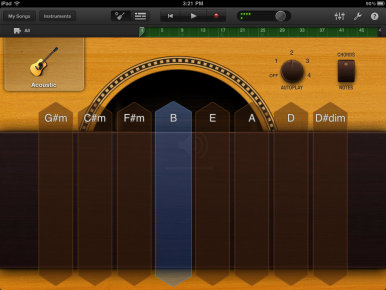 If I do use an Autoplay rhythm on a Smart Instrument, I like to tweak things a bit, so that my song won't sound like every other amateur GarageBand tune. By adjusting the Quantization (and additionally, on Smart Keyboard instruments, the Transposition) via the Mixer button, I can make these stock rhythms sound entirely unique. For "The Barnyard Dance"—recorded using the second Autoplay option—I altered my acoustic guitar part to ¼ triplet, which significantly changed the track's sound. The whole guitar part became jiggier—in the Irish sense, not the Will Smith one. In other words, perfect for this song.
Now that I've got my initial guitar part for "The Barnyard Dance" down, it's time to add some musical layers.