Now that I've finished recording the basic guitar part for "The Barnyard Dance," it's time to add more instrumentation—and what better place to start than with the bass part? To keep it simple, I'll pluck out notes from the chord progression I figured out with the Smart Guitar; thanks to Smart Bass, these simple taps will sound a bit more fanciful.
I tap Instruments, choose Smart Bass, and get to work. All of the Smart Bass instrument options sound good, and—like Smart Guitar—you can tap on individual strings, chose from one of four Autoplay rhythms, or switch over into Notes mode.
When playing the Smart Bass, you can't tap on the chord name when in Chords mode like you can with the guitar; nothing plays. You must either tap individual strings, or choose Autoplay. With Autoplay, the bass strings disappear; you simply tap the root note you'd like, and Autoplay takes care of the rest.
No Autoplay rhythm quite fits what I'd like, however, so I turn to my secret weapon: My trusty USB keyboard. While I can't play the guitar, or the bass, or the drums, I have some—limited!—experience with the keyboard: I bought a small USB-powered one years ago at the height of my love affair with GarageBand on my Mac; in an era before Smart Instruments and Autoplay, I had to fake every instrument by tapping out parts on that keyboard.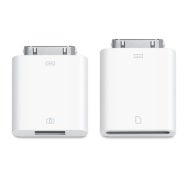 Thanks to Apple's iPad Camera Connection Kit—which includes a USB adapter that plugs into the iPad's 30-pin connector—I can use both USB-powered instruments and microphones with GarageBand for iPad. Because my M-Audio KeyRig wants a bit more power than the Connection Kit can afford, I need to first plug it into a powered USB adapter, and then plug the adapter into the iPad's Camera Connection-based USB port. Once that's done, I can use my truly tactile keyboard to pound out superbly synthesized sounds from all the instruments GarageBand offers.
To record the bass line, I added the Smart Bass instrument, connected my keyboard, and played the part without touching any of the on-screen strings. Of course, once I start recording myself playing instead of trusting in the far less fallible Autoplay, mistakes are inevitable—but thankfully, as in GarageBand on the Mac, fixing mistakes and working with recorded music is pretty easy once you get the hang of things.
Early on in my GarageBand experimenting, I found myself switching back and forth out Instrument view into the main timeline if I wanted to punch in to fix something. But I made enough mistakes recording this bass line that I discovered I could navigate the track using the narrow green strip that sits atop the screen on Instrument view. Just like on the main track view, I can zoom in on the strip to find a specific time in the song, drag the playhead to where I want to pick up recording, and punch right in. I made good use of this feature, since it's a lot faster to punch in and fix mistakes when you're not endlessly flipping back and forth between two views.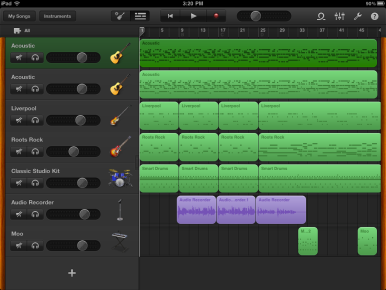 When I do want to see the full, detailed timeline, I just tap the Timeline icon at the top of the screen. The extra visuals—in this case, representations of the MIDI notes I've recorded—can make finer edits easier to perform. This view will make it easier for me to copy and paste a more complicated part of the bass line so that I don't have to try recreating it later in the song. From the timeline, I tap a recorded region once to select it, and then tap a second time to bring up options to Cut, Copy, Delete, Loop, and Split. I'm a frequent Splitter, which lets you separate chunks of a recorded part for easier duplicating (or removal): I tap the clip I want to split, drag the playhead to the spot where I'd like to cut, and then tap the selected clip again to get the contextual menu to appear. When I choose Split, a scissors icon appears; I swipe it straight down to cut the clip. I cut the other side by dragging the scissors through the track to my desired endpoint. My tricky part isolated, I tap again to bring up the options, choose Copy, navigate to the point of the song where the part should repeat, tap, and choose Paste. Now no one has to know that I've only successfully played it once.
With the bass part finished, I moved on. After I lay down a second guitar part from my USB keyboard (the Roots Rock Smart Guitar), it ends up a tattered mess of split sections and punch-ins after I correct the many mistakes of my fat fingers. Fortunately, GarageBand lets you join split sections of a track together—which makes the patchwork track a lot easier to work with. To select multiple sections, I tap on one part to select it first. Then, with my finger on the selected section, I tap the second section I'd like to select. As long as I put one figure on a selected chunk, I can tap other sections to select them, too. Once I've selected multiple adjoining clips, I tap again on any one of them to make the menu appear, and then choose Join.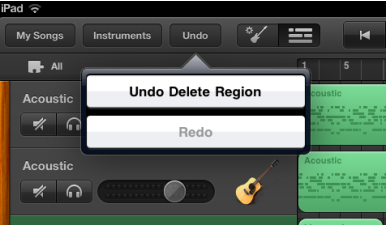 I can edit my poorly-played guitar parts without fear: GarageBand mercifully offers both Undo and Redo buttons. If you're not sure what action you'd be Undoing, you can press and hold on the Undo button to see a wordier representation of what it's about to do (e.g., "Undo Quantization"). Tap and holding Undo button is also the only way to access the ever-elusive Redo; it appears in a pop-up menu beneath the aforementioned wordier Undo option.
Sometimes, when you're trying to fix a mistake on one part, it can be hard to isolate what you're hearing. Luckily, GarageBand offers Solo and Mute options per track, which let you selectively determine which tracks playback at a given time. Tap once on the track you'd like to adjust, then tap the Levels icon, and finally slide Mute and Solo on or off as necessary.
After spending some time with various instruments—both real and virtual—"The Barnyard Dance" features an Acoustic rhythm guitar part, a Liverpool bass, and a Roots Rock guitar. I add one more track—a Keyboard—and record a Grand Piano part, too. At this point, it's time to add the last bits of instrumentation that will bring everything together before adding vocals.