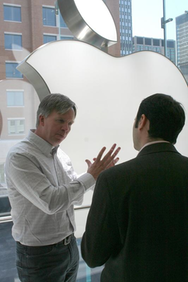 The amazing success of the Apple Retail Stores has been picked apart, studied, and analyzed by consultants, financial analysts, and professors, all trying to find elements they can apply to other industries and turn into successes. So far, it hasn't been easy. Not that the elements of Apple's retail success are that difficult to duplicate. Rather, it's the personal commitment to excellence by Apple's retail team and their genuine delight in seeing customers smile that is tough to copy.
When Ron Johnson, senior VP of retail, arrived at Apple in 2000, he marveled at Apple's products and quickly made a decision: He wouldn't set up the stores as sales machines that try to convince customers to make a purchase. Instead, Apple's products would sell themselves. So Johnson and his assembled team created a superior experience for store visitors, one that includes the perfect store location, impressive architecture, inviting interior design, and incredible employees.
Johnson has an MBA from Harvard and means business, but he's not a numbers guy. Instead, he's a creative soul who, like Apple CEO Steve Jobs, is focused on aesthetics, design, and quality. He decided against paying employees a commission, feeling it would be disruptive to the customer experience. He decided to pay high rents at local upscale malls, rather than within isolated strip malls that wouldn't attract visitors. And perhaps most significantly, it was Johnson who decided to model the stores after great libraries and other public spaces, filled with people using and trying products, learning and interacting with each other.
"We don't want the store to be about the product," Johnson said at the Success By Design Conference in 2004, "but about a series of experiences that make it more than a store." To that end, Apple's stores host an amazing schedule of events and experiences. There are day camps for kids, group and one-on-one training sessions, live music events, back-to-school nights, and presentations by creative people from different industries. From the beginning, Johnson decided to encourage visitors to come into the stores, check email, video chat with family back home, or look up the menu for a nearby restaurant.
The atmosphere in the stores is inviting, approachable, warm, interactive, and intelligent, in Johnson's words. "Apple is never about being tricky," Johnson said in 2004. "It's about being common." That's why Apple Stores use natural materials like stone, wood, glass, and stainless steel, all in a neutral palette, bathed in deliberately designed lighting. There is no store detail too small to consider. "Every little element in the store is designed to these very details," Johnson said.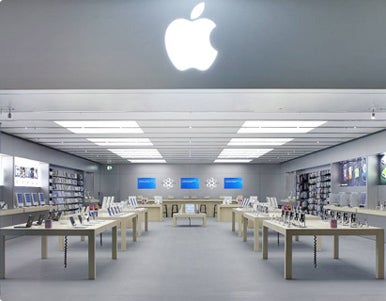 In an innovative move, Johnson also came up with the concept for the Genius Bar. Although its implementation is entirely technical, its origin was much more warm and fuzzy. Johnson has explained its genesis a couple of different ways, either based on a helpful hotel concierge, or on a friendly local bartender. Now, the Genius Bars provide a daily opportunity for Apple to "surprise and delight" store visitors, another guiding principle for the stores.
In a span of ten years Apple has changed how technology is presented and sold, converting it from a cold and impersonal interaction to one that highlights the creative and fun side. There were many skeptics when Apple's first stores opened in 2001, but now companies everywhere are scrambling to duplicate Apple's success.
[The late Gary Allen was the editor of ifoAppleStore.com.]