Look: Sometimes, eight tracks just aren't enough. Since GarageBand on the iPad doesn't yet support "bouncing" tracks (merging multiple recorded tracks together), if you want more flexibility—not to mention greater effects control—you'll need to move your project over to GarageBand '11.
Getting at the file on my Mac seems complicated, but once you get the hang of it—as I have—it's not too hard. Connect your iPad to your computer, and when it pops up in iTunes, click on it in the iTunes Source list. From there, click the Apps tab and scroll down below your list of apps. Now you've found the iTunes File Sharing interface: It's a list of apps along the left, with a scrollable box to the right containing any actual files. Click on GarageBand in the left column, and your saved song will appear on the right. For a shortcut, you can drag the file to the Desktop to copy it, or use the Save To button for the more traditional save dialog.
Now that "Barnyard Dance" is on my Mac, I can get to work. I double-click the file to launch GarageBand '11. Immediately after opening, GarageBand prompts me to save a copy of the file. That's because, unfortunately, while GarageBand for the Mac can open projects from the iPad version of the software, the opposite isn't also true—presumably because GarageBand on the Mac can add more tracks, effects, and instruments than the iPad edition supports. As such, any files you modify on your Mac can't be re-opened on your iPad.
The good news is that GarageBand on the Mac imports iPad files flawlessly. Smart Instrument parts are imported properly, volume levels and panning are maintained, and effects are applied consistently. Even my Sampler moos work perfectly; I can plug my USB keyboard into my computer and play new moos to my heart's content.
At the moment, though, I don't need more moos—I need harmonies. I add a couple vocal tracks in GarageBand (the iPad's 8-track limit now a mere memory), and sing along with myself. And since I'm now afforded all the luxuries that GarageBand on the desktop offers, I also tweak the EQ on my vocal tracks, sequence some panning and volume levels, and polish things a bit more.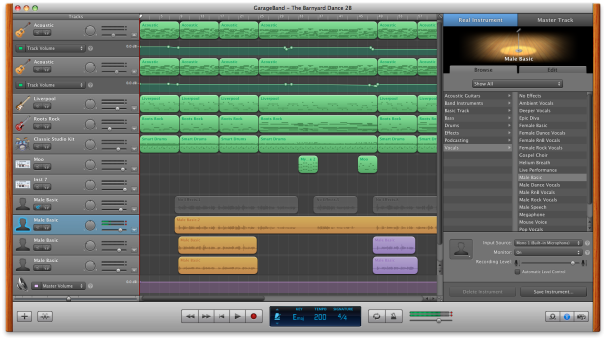 I am far happier with the song after I get the chance to finesse it on the desktop. But that's not a knock against GarageBand on the iPad, because the song wouldn't exist at all if the app—with its zero setup time, Smart Instruments, and glorious multitouch interface—hadn't motivated me to start the project in the first place.
I absolutely could have created a different version of "The Barnyard Dance" if GarageBand didn't exist on the iPad, but the song would be worse for it. Smart Instruments make the initial "getting started" process much easier, usually the toughest part of music creation for me. But more than that, the app makes the recording process feel truly hands-on—and thus, more intimate—than any other means of recording can.
Sure, I know that the next song on my children's album ("Pretending") will eventually end up getting tweaked on my Mac—but that won't stop me from laying down the first eight tracks on my iPad.
Oh, and you may be wondering how the song turned out. (You can even listen to it yourself, if you're so inclined.) I'm in charge of breakfast at the Friedman household, so after busting out the bananas, waffles, and milk, I played the finished product for my kids. Liam, a newborn, didn't have much of a reaction. But Anya (4) and Sierra (2) really seemed pleased with the fruits of my iPad labor. "Play the Moo song again, Daddy," Sierra said. And Anya's feedback was even better: "Daddy, that song made me want to dance!"
Macworld staff writer Lex Friedman lets his children listen to They Might Be Giants, Laurie Berkner, and Raffi, in roughly that order—but he likes that his kids sing along with his own songs, too.