One of the pleasures of walking into a library during the 1980s was the sheer abundance of newspapers on display. Even in small towns, one could check out the news from around the state, the nation, and even from obscure corners abroad. Newspapers for iPad, a $2 offering from developer David Earnest, tries to duplicate that experience by serving as a portal to more than 4,000 newspapers in the United States and around the world.
Navigating the app is a nifty experience. You can start exploring by picking one of the continents, then a country within a continent, then from a list of newspapers within the country. (In the United States, you can also select newspapers by state.) If you find a newspaper you like, you can star it for later visits. While there's nothing wrong with Newspapers' in-app browser, the app lets you open links in Safari. You can also e-mail story links or save pages to Instapaper.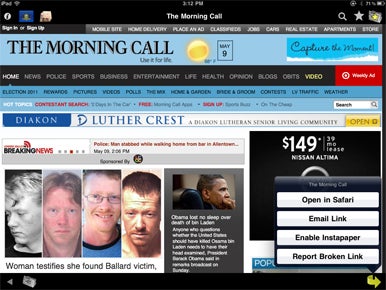 If there's a shortcoming to be found, it's that daily newspaper Websites aren't necessarily print-centered anymore—and the Newspapers app doesn't really accommodate that. Philadelphia, for example, has two daily newspapers that share a single Web site, Philly.com. You can get there on the app by visiting the Philadelphia Inquirer; try the Philadelphia Daily News, though, and you get a list of stories whose connection to that newspaper isn't readily apparent.
It's also true that you could find most of these newspapers online with a little Google detective work—and for free. Still, $2 isn't a steep price to pay to let Newspapers do the heavy lifting. What Newspapers for iPad does, it does mostly well.
[Joel Mathis is a freelance journalist and political columnist for Scripps Howard News Service. He lives in Philadelphia.]