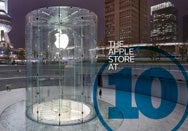 On May 19, 2001, Apple introduced its first Apple Store. The store opening wasn't any ordinary event; in typical Apple fashion, the company took the conventional wisdom, threw it out the window, and created its own rules. A decade later, the Apple Store is the envy of the retailing world.
Macworld has a series of articles to commemorate the tenth anniversary of the Apple Store. We'll take a look back at the events of May 19, 2001, and explore why the Apple Store works as well as it does. We'll also examine how the Apple Store contributes to the company financially, as well as the effect on independent Mac stores. And a Macworld editor looks back at her visit to the opening of the Glendale Apple Store.
Note: When you purchase something after clicking links in our articles, we may earn a small commission. Read our affiliate link policy for more details.