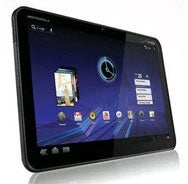 Motorola on Wednesday said users of its Xoom tablets on Verizon will be the first to get the new Android 3.1 update and the first to be able to rent movies from the Android Market.
People with Xoom tablets running on Verizon's network will start getting the updates this week, Motorola said.
Verizon Xoom users will be able to choose from thousands of movies to rent and watch either on the Xoom or on a larger TV screen attached to the device. Anyone can rent movies from the market on their computers now, but Google plans to roll out the ability to other users of devices running Android 2.2 and up "in the coming weeks," it said.
Google introduced Android 3.1 and the movie rental service on Tuesday during its Google I/O conference.
Android 3.1 adds a handful of new features including the ability to attach peripherals to the Xoom via USB. Users will be able to connect keyboards, mice, game controllers and digital cameras to the tablet.
It also allows people to use a Bluetooth headset in Google Talk video chats and a Bluetooth mouse. Users will get some user-interface improvements as well, including the ability to size widgets.
Verizon Xoom users will also get the final release of Adobe Flash Player 10.2.
Wi-Fi-only Xooms and those running on other networks will get the new features "within the next several weeks," Motorola said.
Motorola worked closely with Google to introduce the Xoom, which was the first tablet running Android 3.0, also known as Honeycomb. For Android updates, Google commonly gives preference to partners that initially implement the operating system to include applications and features important to the search giant.