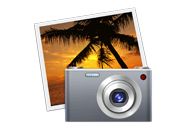 Apple TVs aren't the only ones getting a dose of Apple update magic this Wednesday. iPhoto '11, too, has been updated, moving the software to version 9.1.3.
According to the release notes, this patch fixes an issue regarding improper merging: Users were finding that events they had previously merged in iPhoto '11 were showing up as multiple events on an iOS device after syncing.
The update—for computers running Mac OS X 10.6.6 or later—will set you back a cool 106.29MB in space; you can download it from Apple's Support Website or from Software Update on your Mac.