After decades of Photoshop's domination of the image editing market, it's been surprising to see that, over the last couple of years, a lot of small companies have decided to make image editing programs—and have done a surprisingly good job! Joining affordable image editing applications like Pixelmator, Flare, and Adobe's own Photoshop Elements 9, is Flying Meat Software's Acorn, which just received an update to version 3.0.
Priced at $50 (or a $20 upgrade for Acorn 2 users), Acorn 3 is a full featured image editor with a lot of high-end features, including raw conversion, multiple layers, vector graphics. What's not entirely clear is who it's aimed at.
My, what a big tool palette you have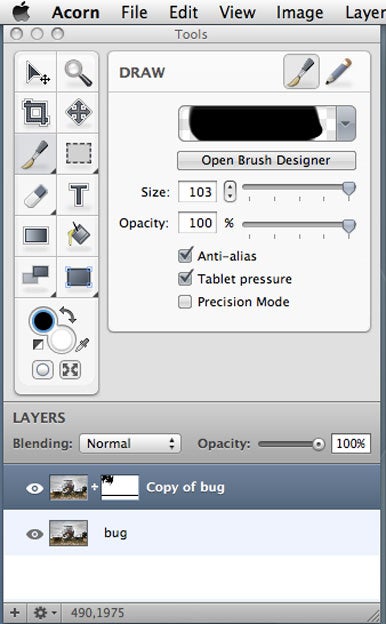 Acorn offers an interface that is very streamlined, particularly when compared to Photoshop and Photoshop Element's large assortment of palettes and toolbars. In Acorn, your document appears in one window, and your tools appear in a palette. All your tools. One palette. While, conceptually, this is a nice idea—you always know where to find a tool—it makes for a rather inefficient use of screen space. The tool palette is very wide and kind of squat.
In that tool palette you'll find navigation tools, a crop tool, a text tool, drawing, gradient, paint bucket, shape tools, a clone tool, and a color picker. When you click on a tool, the right half of the toolbox fills with parameters, and tool variants. Basically, it's Photoshop's tool palette and control bar combined into one box.
At the bottom of the tool palette sit layer controls. Acorn offers fairly sophisticated layering controls, with the ability to easily duplicate layers, and change their blending mode and opacity.
Good compositing requires good selection tools. The usual lasso, marquee and magic wand tools are provided and, as in most image editors, these are largely useless for creating the types of subtle, smoothly blended masks that you need for sophisticated photo compositing. Fortunately, the program now offers a QuickMask feature, which lets you define a selection by painting.
You can create Layer Masks in the Layers palette, for more sophisticated, non-destructive compositing operations. Be aware, though, that some essential commands—such as Add Layer Mask—are only available from a pop-up menu in the Layers palette, not from the Layers menu.
Special effects and new features
Acorn includes a huge assortment of image editing effect filters. Everything from distortions to color and tone alterations to stylized effects such as comic book-like edges and kaleidoscopic effects. New to version 3 is the ability to assign many of these to a layer as a Layer Style. What's nice about Layer Styles is that they're non-destructive—they can be altered or removed later, and controlled with a Layer Mask.
Other new features include more sophisticated gradients, the ability to rotate text and shape objects; and the ability to convert shapes to Bezier objects, with all the editing abilities you expect from a full-fledged vector illustration program.
Photoshop support has been improved, and layered files are supported, though I found that importing a complex layered Photoshop document didn't always work properly, with the resulting image being muddled and garbled.
Raw files are supported, and Acorn offers a very basic assortment of raw conversion controls. However, the program bogs down if you hand it a very large image. Trying to work with images from my Canon 5D Mark II on my 2.1 GHz MacBook Air was an exercise in frustration, as every click led to some quality time with a spinning rainbow cursor.
Macworld buying advice
There's some very good engineering behind Acorn, and many effective interface ideas, such as the ability to create a chain of filters that can be saved as a preset. Unfortunately, the target audience for the program isn't clear. [Editors' Note: Gus Mueller of Flying Meat responds.] Acorn's got advanced features that most novice users won't use, but not all the simpler tools that novice users need.
It's an extremely effects-heavy application—Acorn provides well over a hundred Filter effects. So, on the one hand, the program has a very simple set of editing tools, on the other hand it provides filters for such thing as circular and lozenge-shaped distortions, halftone effects, and Sixfold Rotated Tiling. Whether any of these are useful or not is up to your particular needs and tastes. Similarly, it offers multiple layers, with blending modes, but lacks a Curves tool or Fill Light.
I would imagine that the user who's shopping for a $50 image editor is not out to create an effects-laden masterpiece, they probably just want to improve their photos, and in that regard, Acorn offers about the same level of power as iPhoto. You get levels, and filters for exposure, gamma, saturation, brightness, contrast, and white point. There are no controls for brightening and darkening only shadows.
The price is impressive, but for only $25 more you could get Photoshop Elements 9, and have a more streamlined interface, far more powerful raw conversion and image editing, and better performance, or for $10 more, pick up Pixelmator, and get a speedier application. But, for the user who wants quick and easy access to the types of effects Acorn provides, or for masking and compositing with the QuickMask feature, it's hard to beat the price.
Acorn 3 works on Macs running OS X 10.6.6 or higher. It is available through the Mac App Store or directly from the Flying Meat site. Acorn 2 users who wish to upgrade for $20 cannot go through the Mac App Store. To upgrade, open Acorn 2 and go to Acorn -> Check for Upgrades.
[Macworld senior contributor Ben Long is the author of Complete Digital Photography, sixth edition (Cengage, 2011).]