If you see yourself as an on-the-go info junkie who's itching for an iPad tool worthy of the Omni Group's name, I am happy to say that you finally have a reason to get your iTunes Store password ready. We previewed OmniOutliner for iPad in January at Macworld Expo 2011, but as of Thursday, you can now get your fingers on a downloadable version of the mobile outlining app.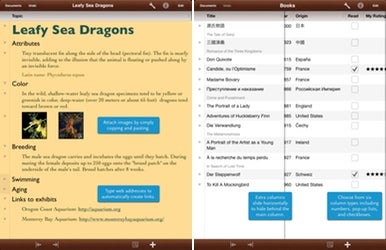 OmniOutliner for iPad is a modern mobile version of its Mac counterpart, OmniOutliner 3. It offers a collection of tools that span note-taking, spreadsheets, and even light photo organizing. You can create documents with hierarchical notes, columns for processing simple equations, lists, and images pasted in-line, then apply rich text styling to visually distinguish your ideas and projects.
When it's time to share your document, you can e-mail or export it to MobileMe's iDisk, a WebDAV server, or iTunes Document Sharing in a variety of formats including plain text, simple HTML, dynamic HTML, or OPML (a basic outline format that should work in other similar apps).
If you're hoping for an iPhone version of OmniOutliner, Omni Group CEO Ken Case told Macworld back in January that he was interested in the possibility.
OmniOutliner for iPad is available now in the App Store for $20.