The white iPhone 4, it seems, can't catch a break. After a series of launch delays pushed the ivory-colored phone into the I'll-believe-it-when-I-see-it realm formerly occupied by the availability of the Beatles on iTunes, Apple finally shipped the white iPhone at the end of April. But that debut only led to a new controversy over the milky mobile's girth.
Sure, black is slimming, but if you believe some media reports, the black iPhone 4 model actually is thinner than its bleached brethren. These reports became so widespread that Consumer Reports was inspired to whip out its calipers and measure. The verdict? The white iPhone isn't thicker—at least according to the organization's comparison of a single white iPhone and a single black model.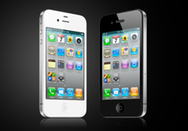 Should the relative thickness of the white iPhone really matter? Only as it might affect accessory compatibility. Specifically, if the black and white iPhones do indeed differ in size, some form-fitting cases originally designed for the black iPhone 4 might not fit the white model. So rather than buying an expensive set of calipers and measuring a couple iPhones—an experiment that really doesn't prove anything anyway, given the small sample size—I went for the practical approach: I tested cases. A lot of them.
Specifically, I sacrificed my fingers to try a white iPhone 4 and two black iPhone 4 models—all AT&T (GSM) versions—with 55 cases designed and released before the white iPhone was available: 30 rigid shells, 12 silicone "skins," two bumper-style rings, 2 leather flip/folio-style cases, three extreme-conditions cases that completely enclose the phone, and six other cases with varying designs and special features. This sample of cases also represented all the major accessory vendors, as well as a number of smaller or lesser-known manufacturers—it was a rather comprehensive batch of products.
The results? With my specific test model—remember, there may be manufacturing variations that mean some phones, white or black, are thicker or thinner than others—the white iPhone fit as expected in all but two cases, and many cases had enough "wiggle room" that even an iPhone that was slightly thicker would have still fit comfortably.
Those two cases that didn't fit perfectly? When I tested those models— Kee Utility's Slider and Xcel Technologies' XcelCase—the fit was snug enough that it was difficult to get the phone in and out of the case. But…this overly tight fit affected both the white and black iPhone 4 samples.
In other words, even if we had a methodologically sound way of comparing the average thicknesses of white and black versions of the iPhone 4, and we discovered that there are indeed minuscule differences in thickness between the colors, it likely doesn't matter. Assuming my testing is roughly representative, the typical iPhone 4 case will fit both colors equally well, and if a case is too tight for the white model, it's because it's an exceptionally tight case to begin with.
[Senior editor Dan Frakes would prefer to not see an iPhone case for a while.]
iPhone 4 16GB Black (CDMA, Verizon)
Price When Reviewed:
$499
iPhone 4 32GB Black (CDMA, Verizon)
Price When Reviewed:
$549
16GB iPhone 4 (GSM, AT&T)
Price When Reviewed:
$485
32GB iPhone 4 (GSM, AT&T)
Price When Reviewed:
$599