You have to feel kind of badly for app makers who put in the time and effort to develop their own unique spins on golfing, only to release the finished product in a market dominated by Super Stickman Golf. That's a sizable yardstick to be measured against. Still, we shouldn't let the greatness of Super Stickman Golf obscure some pretty good games that put their own stamp on the golfing genre. Otherwise, you'd overlook Par Out Golf, an enjoyable twist on the golfing genre from Endless Wave Software.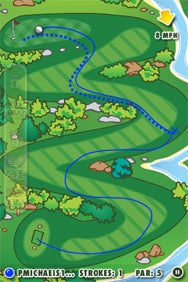 Par Out Golf owes more to finger-tracing games like Flight Control than any golf game. You place your finger on the ball and trace a path from tee box to the green, with the goal of landing in the hole in as few strokes as possible.
Sounds simple, right? Par Out Golf ups the difficult level by obscuring your view before you make your shot. When you place your finger on the ball, clouds roll in to cover the entire hole; thus, you've got to rely on your memory to trace a path to the hole without running into any obstacles—water hazards, trees, sand traps—along the way. There's also the small matter of the wind—it blows in different directions and at different speeds on each hole, which can seriously alter the course of your shot. The bottom line: Par Out Golf throws a lot of challenges at you, keeping the game interesting every time you play a hole.
Besides some engaging game-play, Par Out Golf also stands out thanks to some unique hole designs. The fairways twist and turn, water hazards pop up everywhere, and doglegs force you to make physics-defying shots that Tiger Woods can only dream about. Endless Wave also gives each hole a fun, creative name like King of The Hill, One Wrong Move, or Fore-Rest that perfectly encapsulates the challenge at hand.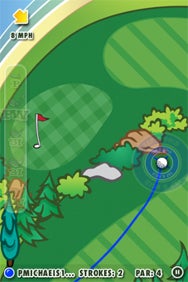 I have a few beefs with the gameplay. Par Out Golf awards you badges for making pars, birdies, and eagles on each hole; you use these badges to unlock courses. That's all well and good, but sometimes it places you in an awkward position. Say you've already earned the birdie and eagle badges on the par 5 Bumpers hole—that means if you want to earn the par badge, you've got to deliberately avoid sinking an eagle or birdie putt. It feels contrary to the entire point of golf.
More troubling is when Par Out Golf zooms in after a wayward shot, giving you very little room to trace your next shot. The game doesn't allow you to zoom out, so you're limited in how you can get back on course. I've tallied double-digit scores on some holes because the game wouldn't allow me to trace my way out of trouble. (Update: After this review was published, Endless Wave contacted me to let me know that there is a way to zoom out—though it's not the most intuitive method I've ever encountered. The game features a club picker, and selecting a club with more heft—a wood, say, instead of an iron—gives you more room in which to work. I've since tested the feature, and it works as Endless Wave says it does. The developer says an improved auto-zoom feature is planned for a future update; it will be a welcome improvement over the serviceable—and hard to spot—zoom capability in the current version.)
Still, there's plenty to like about Par Out Golf. It offers great multiplayer features—up to four people can play on the same device using pass-and-play, and you can also take on opponents remotely via Game Center. The $2 game is the rare universal app that plays just as well on the iPhone's smaller screen as it does on the iPad's ample real estate.
Not many games are going to knock Super Stickman Golf off its perch any time soon. But if you're looking for a different kind of golf game, Par Out Golf is certainly up to par.
[If you ever want to find Macworld.com executive editor Philip Michaels out on the golf course, check the sand traps first.]
Updated at 8:58 p.m. PT to note the inclusion of an auto-zoom feature.