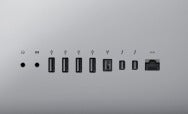 Last week Macworld Senior Editor Roman Loyola and I arrived at Apple bright and early for a briefing about the latest generation of iMacs—the same four 2011 iMac models we reviewed earlier this week. That iMac unveiling gave us the chance to see the new Thunderbolt connection technology in action.
I was out of the country back in February when the new MacBook Pro models introduced Thunderbolt to Mac users for the first time. And though we've had those models in our lab since we reviewed them two months ago, we still don't have any Thunderbolt devices in our offices to test with Apple's revamped hardware.
At Apple's headquarters, however, I was treated to an impressive demo: A four-SSD RAID array streaming six channels of uncompressed 1080i video in real time. For those of you who don't know about video bit rates, let me explain. No, there is too much—let me sum up. That's a gigantic amount of data passing across the Thunderbolt port. So much data that it makes me wonder about the future of the Mac Pro, now that fancy expansion cards won't be needed to enable massively fast data rates.
Not to be outdone, Apple also introduced (though didn't demo) another feature of these new iMacs: All models support video-in, so they can be turned into fancy 21.5- or 27-inch HD monitors. All you do is connect one end of a Thunderbolt cable to the iMac and the other end to a device that's outputting video. That could be an HDMI to Thunderbolt video adapter, presumably… but, Apple executives told me, it could also just be a MacBook Pro.
That's right—if you've got a new iMac on your desk at home and you come home with your MacBook Pro, you can plug the laptop in to the iMac's Thunderbolt port and use it as an external monitor. Pretty cool.
Armed with this knowledge, Roman and I drove the iMac back to our offices for quick lab testing. I thought it would be cool to do a hands-on test of the video-input feature. But we ran into a little catch—we didn't have a Thunderbolt cable. (And no, a Mini DisplayPort cable won't work, because Mini DisplayPort is a subset of Thunderbolt and this feature requires full-on Thunderbolt.)
It gets better. Nobody has a Thunderbolt cable. Well, Apple has one, obviously, since there was one running from its demo RAID drive to its iMac. But the company didn't have one to spare for us. We called a bunch of storage vendors who are working on Thunderbolt devices; they all suggested that we could look forward to seeing a flood of awesome Thunderbolt hard drives "this summer." As for now, though? Not even a cable was available.
More than a decade ago, I got to witness the launch of the original iMac firsthand as a senior associate editor at Macworld. One of my memories of that period is just how new USB was. As in, for the first few months of the new iMac, the only working USB devices we could get our hands on were the iMac keyboard and mouse. How slow was the USB roll-out? We reported on the original iMac in our July 1998 issue; our really big round-up of USB devices didn't appear until July 1999, eleven months later.
My point is that there's often a big lag time with new connection technologies. (The same was true with FireWire and FireWire 800, too.) It just takes time for the wheels of device manufacturers to slowly grind into motion. Right now, Thunderbolt exists in this limbo state. It's there on multiple Apple systems, but there's nothing for the owners of those systems to buy.
So though we've tried to be as thorough as possible when it comes to reviewing Apple's new MacBook Pros and iMacs, the bottom line is this: There's no way to verify any of Apple's claims about the speed of Thunderbolt devices, because there aren't any. And we can't tell you how the video-in feature of the new iMacs works, because there are no cables to use to test it.
We're on the cutting edge with Thunderbolt. When we know more, we'll let you know. But for now, Thunderbolt is just a promise and those ports on the iMacs and MacBook Pros are just Mini DisplayPorts with a different label.
MacBook Pro (early 2011) family
Price When Reviewed:
$1124.95