EuroSmartz, the paper-loving developers behind PrintCentral Pro for iPhone and iPad, have been busy. In April the company released a hefty update to the iPad version, and it's already back with a 2.0 upgrade to both iPhone and iPad editions.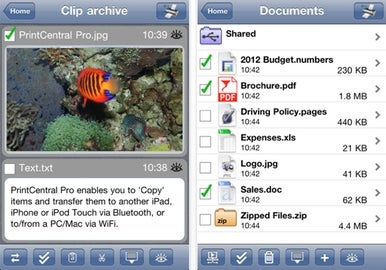 The big addition in PrintCentral Pro is support for Google Cloud Print. Announced in January, Cloud Print is Google's answer to Apple's AirPrint; it allows users to register their printers with Google's Web services and wirelessly print documents from Gmail, Google Docs, and other sources. Yes, this means that you can print from an iOS device over Wi-Fi, 3G, or even EDGE to any printer anywhere in the world, as long as it's plugged into Skynet Google. PrintCentral Pro 2.0 should also convert Web pages, documents, and e-mails into PDFs much more quickly.
These improvements are in addition to an already impressive array of features that include printing directly to most Wi-Fi-enabled printers or (with the help of a free utility) to any printer connected to a Mac or PC; support for exchanging files with iTunes Document Sharing and cloud services like iDisk, Dropbox, and Box.net; printing SMS messages; and PDF conversion and printing of other types of data, like your device's calendar and contacts.
PrintCentral Pro 2.0 is available now on the iPhone and iPod touch for $9, and the iPad for $10.