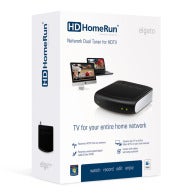 On Monday, Elgato introduced the HDHomeRun, a networked, dual-tuner device that lets you watch and record over-the-air (ATSC) or unencrypted digital cable (Clear QAM) signals on a combination of two Macs or PCs at the same time.
Elgato's $180 HDHomeRun is actually a bundle of the SiliconDust product of the same name with Elgato's EyeTV 3 software and two software licenses.
You connect the HDHomeRun to your network via ethernet (100Base-T or better) and then can watch or record different programs on two separate Macs on the same network. (For wireless streaming, 5GHz 802.11n is required.)
You can also use the $5 EyeTV iOS app to watch live or recorded shows on an iPhone, iPod touch, or iPad over Wi-Fi or 3G.
If the HDHomeRun sounds familiar, that's because Elgato released a similar bundle in 2007 with an earlier version of the product. Although the company stopped selling the bundle a few years ago, the EyeTV software has continued support the HDHomeRun hardware. (SiliconDust sells the HDHomeRun for $130, but without Mac support. Elgato charges $80 for a single copy of EyeTV 3, so it would cost at least $210 to use it with the Mac otherwise.)
The HDHomeRun requires an Intel Mac with a Core 2 Duo or better processor running OS X 10.5.8 or later. You can also use it with a PC running Windows 7 and having at least a 2GHz Core 2 Duo or AMD processor.