I've covered a number of Mac Gems aimed at helping you remember tasks, events, and appointments. But one thing they've all had in common is that they've been Mac Gems—they remind you only when you're sitting in front of your Mac. If you've got multiple Macs, a select few of these programs can sync reminders between Macs, so you'll be reminded as long as you're working at one of them.
But thanks to iPads, iPhones, and iPod touch models, many of us spend a lot less time in front of our Macs than we used to. For others of us, having an iOS device simply means that we now have some sort of computing device with us for more of each day. (Which also means there's now a glut of iOS apps that help you remember things.)
Thanks to these changes, my approach to reminders alternates between setting reminders on either my iPhone or my Mac, based on which I think I'll be using at the time I want to be reminded; or setting reminders on both my Mac and my iPhone, just to be sure I'm covered. But wouldn't it be great if you could set one reminder and get it on all your devices? That's the idea behind Caramel Cloud's Notificant ( Mac App Store link), a combination of a $5 Mac app, a $3 iOS app, and a Web service that lets you set a reminder once and have it appear on all your devices. It's also a useful tool for quickly sending URLs and other bits of text between devices.
Once you've installed the Notificant app on your Macs and iOS devices and signed up for a required Notificant account, you log in to that account from within each copy of the app. This one-time setup process allows Notificant to coordinate your reminders across all your devices.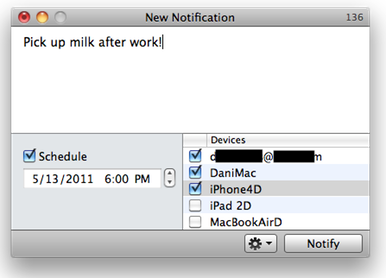 By default, Notificant for Mac appears only in the menu bar, although you can choose to have it appear in the Dock, as well. Click the Notificant icon and choose New Notification—or press the customizable keyboard shortcut for creating a new notification—and you get a simple window for creating your reminder. Just enter a message of up to 160 characters and choose a time for the reminder to be "delivered." (If you don't check the Schedule box, Notificant will deliver the reminder immediately.)
But the standout feature of Notificant is that every device on which you've installed the Notificant client (and, of course, logged in to your account) is listed in the Devices section of the window; check the box next to each device on which you want your reminder to appear. Your e-mail address is also listed here; select it, and you'll also receive an e-mail reminder. (Unfortunately, the subject line of these e-mail reminders is simply "Notification," rather than a snippet of the reminder, and you can't currently add multiple e-mail addresses to your account. I'd love to be able to add my wife's address so I could send reminders or bits of text to both of us. Alternatively, it would be great if you could send, with permission, to another person's account.)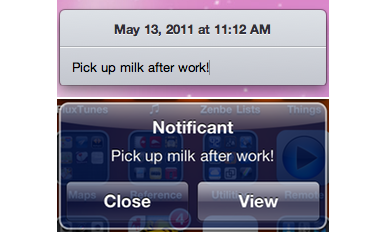 Click Notify, and at the scheduled time, your reminder appears—and an audible alert sounds—on all the selected devices. If you included your e-mail address as a destination for the notification, you also receive the e-mail reminder at the same time. No matter where you're at, or which of your computing gadgets you've got with you, you're sure to get your reminder. I tested Notificant with two Macs, an iPhone, and an iPad, and Notificant's reminders never failed to appear on the chosen devices.
Of course, Notificant needs to be running on your Mac(s) to receive and display your reminders, and each of your devices needs some sort of Internet connection to synchronize reminders. (The iOS version uses Apple's notification service, so the app doesn't need to be running on your iOS devices to receive messages.) However, you don't need an active Internet connection at the actual time of the reminder—Notificant will store reminders for later notification, so as long as a particular device has had an Internet connection after you created a reminder, that reminder should go off on that device at the scheduled time.
Because of the 160-character message limit, Notificant's notification-creation window includes a Shorten URLs command that uses the bit.ly service to shorten any URLs in your message. URLs are clickable/tap-able in the resulting notifications, making them useful for quickly shuffling a URL between, say, your iPhone and your Mac.
You get a couple options for customizing notifications: You can choose one of nine alert sounds (or disable sounds altogether), and you can choose to use either Notificant's own onscreen notifications or, if it's installed on your Mac, Growl. I prefer to disable Growl (which you do from within Notificant's settings screen, not from within Growl) and use Notificant's own notifications, because they're a bit more noticeable and they stay on the screen until you specifically dismiss them. (Growl has a stay-on-the-screen option, but in my experience, it doesn't always work.)
Notificant's iPhone app—which works on the iPad, but doesn't provide a native iPad interface—uses an identical process for scheduling reminders, but it actually provides more features than the Mac version. For example, you can view a list of upcoming reminders, and edit any of those reminders, and you can view a list of past reminders. And the app's icon on your Home screen can display a badge indicating the number of reminders you've missed. It's too bad the Mac version doesn't offer these features, as well; I hope a future update adds them.
Notificant also offers an excellent Web app that lets you manage your account and schedule reminders from any Web browser. Like the iOS app, the Web app lets you create new reminders, view past reminders, and view and edit upcoming reminders. But it also lets you rename your devices, so you can choose how they appear in the Devices list in all versions of Notificant.
Why not just use your normal calendar program or service for these kinds of reminders? After all, many of these sync between devices. The first reason is that Notificant lets you decide exactly which devices produce reminders for each event; using MobileMe Calendar, Google Calendar, or some other calendar service means every event results in alerts on all of your computers and iOS devices. Second, if, like me, you prefer to use your calendar for actual events, Notificant lets you keep your schedule clear of items such as "Pick up milk after work!" Finally, creating a new reminder in Notificant is a bit quicker and easier than creating a new event in most calendar programs.
In addition to the limitations I already mentioned, I wish Notificant offered the capability to set repeating reminders, and I often found myself wanting to set a timer so I could be notified, say, "15 minutes from now." Caramel Cloud told Macworld that these are planned for a future update. But even without these features, Notificant is quite useful for those of us who never know—or would rather not worry about—which gadget we'll be using at a given time. It also makes it simple to send URLs and text from one device to another.
(Disclosure: Macworld contributor Aayush Arya is an employee at Caramel Cloud, the developer of Notificant. However, while Aayush is a nice guy, I like Notificant solely because it's handy and easy to use.)
Want to stay up to date with the latest Gems? Sign up for the Mac Gems newsletter for a weekly e-mail summary of Gems reviews sent directly to your Inbox. You can also follow Mac Gems on Twitter.