Noterize is a combined note taking and document annotation app for the iPad that hits the sweet spot where many students live. They are taking lots of notes, reading and reviewing many PDF documents and PowerPoint presentations, and collecting articles for research projects.
The app from Robert Stretch is not the best file viewer available, and other note taking apps provide similar tools that enable you to type, draw in freehand, and attach virtual sticky notes to documents. However, it does a very good job of combining these tools, and making easy work of transferring documents (including annotations) from the iPad to a computer via Dropbox and other cloud services or via e-mail. You can also choose to share (via e-mail or cloud services) only selected pages of documents.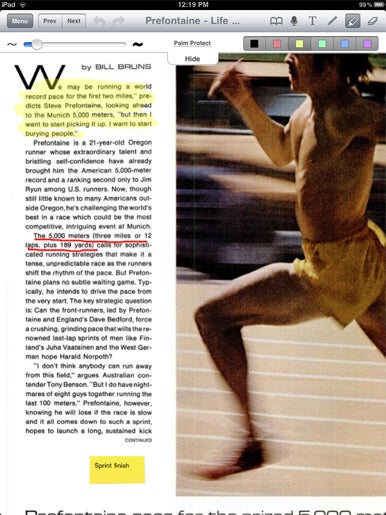 Noterize also allows you to insert pages into documents (allowing you to add pages of notes to an already-existing document). Another useful tool is a built-in Web browser which provides the capability of creating a "snapshot" of a selected space on a Web page, which is then downloaded and available as part of your note set.
I've found Noterize to be a very useful tool for annotating documents, as I primarily prefer to highlight notable passages (the width of the app's virtual highlighter is adjustable, as is its color), but also occasionally like to add a sidenote (via sticky notes), or write something in the margins freehand. A small menubar that can be hidden enables you to switch between these tools easily.
The app suffers from a pair of drawbacks, though. It is slow, compared to other apps, in downloading files from the cloud, sometimes taking several minutes to capture and display a file that other apps process in under a minute. It also lacks an internal organizational tool, meaning that files can not be placed into folders or even ordered alphabetically or by date created.
Despite these missteps, Noterize has proven, over many months of personal use, to be stable and reliable—a workhorse, of sorts, that lacks the flash (and some capabilities) of competitors but is terrific for those days when you have a pile of papers to mark up and read.
[Jeff Merron is a freelance writer and editor living in North Carolina.]