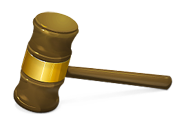 Lodsys, the company that last week began sending legal threats to iOS app developers alleging patent infringement, launched a new blog over the weekend to explain its side of the story.
In addition to referencing an "amazing amount of… death threats [and] hateful bile" that Lodsys CEO Mark Small supposedly received (presumably from folks unhappy with Lodsys's legal maneuverings), the company attempted to clarify why it's taking these actions against developers and what, specifically, it wants.
First, in justifying its approach of threatening legal action against individual app developers (and not Apple itself), Lodsys writes:
The economic gains provided by the Lodsys inventions (increase in revenue through additional sales, or decrease in costs to service the customer) are being enjoyed by the business that provides the product or service that interacts with the user. Since Lodsys patent rights are of value to that overall solution, it is only fair to get paid by the party that is accountable for the entire solution and which captures the value (rather than a technology supplier or a retailer).
Lodsys draws an analogy using hotels, claiming that it's the hotel owner—in whose shoes Lodsys places the app developer—who's legally liable for the guest experience, and not the landowner—whom, of course, Lodsys compares to Apple.
The company further states that its aim is not to force Apple to secure a license for the Lodsys patents; in fact, Lodsys claims that Apple—along with Google and Microsoft—"is licensed for its nameplate products and services." But that license does not extend to third-party developers.
The scope of [Apple's] current licenses does NOT enable them to provide "pixie dust" to bless another (3rd party) business applications. The value of the customer relationship is between the Application vendor of record and the paying customer, the OS (is acting as an enabler) and the retailers (are acting as a conduit to connect that value), and taking their % for that middleman role… Economically, the best return is probably to license each Application vendor for a piece of value, rather than to include in a "buyout" for an OS vendor.
Lodsys indicates that it plans to seek .575 percent of U.S. revenue from app developers for a license to use its patents. (As Lodsys itself points out, that means an app with $1 million of U.S. revenue per year would owe Lodsys $5,750.)
As Macworld reported on Friday, several of the developers on the receiving end of Lodsys's legal threats have reached out to Apple for legal advice or input.
Neither Apple nor Lodsys have responded to Macworld's requests for comment.