It's been a couple of weeks since our last iPhone 4-case roundup—which means that it's time to take a look at the latest in handset protection. The big news of the past month has been the launch of the white iPhone 4, and the subsequent kerfuffle caused by its allegedly being ever so slightly thicker than its original black cousing.
Luckily, despite the confusion over this issue, the world of case makers seems to have been largely unaffected by possible differences between the two handsets, with manufacturers such as Lost Dog contacting us to let us know that their accessories will work equally well on both models.
All this means, my dear readers, that we can move right into the thick of it and look at what's new this week.

Caze: The Duetto ($27) is a durable and lightweight combination of a thin bumper and a backplate. The case features anti-slip construction, and the backplate is interchangeable, featuring either a white-polka-dot pattern (on pink or black), zebra stripes, or leopard spots. Backplates come two to a box, which also includes a set of screen protectors for the iPhone's front and back.

InCase: The Perforated Slider ($35) is a white case that combines sturdiness with a lightweight design. The Slider's perforations keep the weight of the case down without compromising its ability to protect your phone. They even promote airflow around the handset.
If you like the concept but prefer a quirkier look, look no further than the Bird's Nest, which uses the same approach but features a unique "woven" look and is available in a black or steel finish.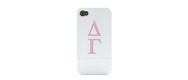 LifeCases: The company's College Series ($25 each) features a rather comprehensive collection of cases monogrammed with various fraternity and sorority symbols.
Third Rail: If you happen to be one of those people for whom the iPhone's battery life isn't enough, you've probably considered buying an external battery pack. The problem with those, however, is that they're often bulky and heavy, making carrying your phone around a much less pleasant experience.

Enter the Third Rail System ($90), which is composed of a case with a detachable battery pack that you can keep safely tucked away in a pocket or carrying bag until you need it.
TrtlBot: The TRTL Stand ($30) is a lightweight, eco-friendly case made entirely out of recycled plastic bottles. It features clever tabs that pop out at the back to turn the case into a stand that works both in portrait and landscape mode. The case comes in white, black, blue, green, or pink.

Along similar lines, the Minimalist ($30), as its name implies, is a simple but sturdy case. The case also features a side pocket capable of holding up to three ID or credit cards. The case comes in green, blue, pink, black, or white.
32GB iPhone 4 (GSM, AT&T)
Price When Reviewed:
$599
iPhone 4 32GB Black (CDMA, Verizon)
Price When Reviewed:
$549
iPhone 4 16GB Black (CDMA, Verizon)
Price When Reviewed:
$499
16GB iPhone 4 (GSM, AT&T)
Price When Reviewed:
$485