On Tuesday, Slacker launched Slacker Premium Radio, a $10-a-month on-demand tier of the company's music-streaming service.
Slacker Premium Radio gives subscribers on-demand access to Slacker's library of more than 8 million songs. Users can listen on the Web, or using an iPhone, iPod touch, iPad, or Android or BlackBerry device (note that you can only log in via one device at a time). Users also get access to top songs and artists from the 150-plus Slacker genre stations.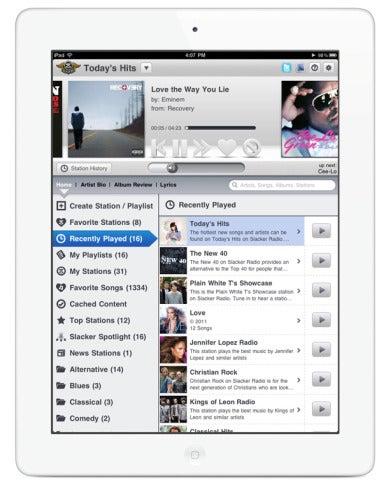 Unlike music-subscription services Mog, Napster, Rdio, and Rhapsody, which let you choose exactly what to listen to, Slacker has traditionally been in the music discovery category—in other words, more like a traditional radio station that chooses the programming for you. The addition of Slacker Premium Radio turns Slacker into a something of a hybrid service with both programmed and on-demand options.
A new station creator on the Web and in the mobile apps lets all Slacker users create stations based on a single artist or with loads of hand-picked artists. Premium Radio subscribers can refine stations to play only songs from a particular artist. They also have the ability to tag and play Favorites; view song lyrics; peek ahead at upcoming streaming artists, songs, and albums; and more.
In addition to streaming, mobile users can cache songs, albums, playlists, or even entire stations for offline playback. The newfound mobile functionality comes courtesy of an updated, universal iOS app (as well as new apps for Android and BlackBerry customers) that provides a new interface and new features across all tiers of Slacker's service. Slacker has also refreshed its Website to reflect the new features.
Like rival Pandora, Slacker continues to offer a free Basic Radio service, and the company still has an ad-free Slacker Radio Plus tier for $4 per month (previously $5 a month unless you paid for the whole year at a time).
You can try out Slacker Premium Radio for free by visiting Slacker's Facebook page.