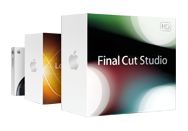 Final Cut Pro may be on the verge of a makeover, but that doesn't mean Apple's ignoring the application's current userbase—or those using any of the company's creative applications, for that matter. On Tuesday, Apple issued the ProKit 7.0 patch to fix issues found within Final Cut Pro, Motion, Soundtrack Pro, DVD Studio Pro, iPhoto, Aperture, Final Cut Express, Logic Pro, MainStage, Logic Express, and iAd Producer.
The 15.7MB update claims to fix a number of minor issues found within all the aforementioned aps, in addition to a few specific patches for Final Cut Pro, Motion, Soundtrack Pro, and Logic. All applications will find improved support for PopOver style tooltips and Font Smoothing and any unwanted gaps between menus and submenus have also supposedly been eliminated.
Final Cut Pro and Motion will see improvements to the stability of both the color picker and timecode interface; memory leaks in both applications have also been fixed, and Motion alone has received a patch for AppKit-related crashes. Soundtrack Pro will boast improved compatibility when importing project assets from older versions of the program, and an appearance issue with the scrubber has been addressed in both Logic Express and Logic Pro.
Apple recommends the update for all of the above applications on any system running 10.6.6 or later. You can download it from Apple's Support Website or by running Software Update on your Mac.