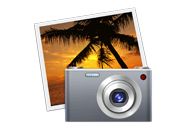 Apple has released an update to Digital Camera RAW that adds support for five new cameras. This compatibility update, version 3.7, affects Mac OS X users running Aperture 3 and iPhoto '11.
Only two DSLRs made the cut: Nikon's new mid-level D5100 DSLR and the Samsung GX-1S. The latter is a particularly interesting addition since the camera was released back in 2006.
Also supported are the Olypus E-PL2 Micro Four-Thirds camera and the Olympus XZ-1 point-and-shoot camera. Rounding out the list is FujiFilm's much coveted FinePix X100 $1,200 compact camera.
Run Software Update on your computer or go to the download page on Apple's support site to grab the 6.62MB update. Digital Camera Raw 3.7 is compatible with Macs running OS X 10.5.8 or OS X 10.6.6 or later.
You can see a complete list of all cameras supported by Digital Camera RAW on Apple's support site.