In today's "Share everything! Share it now!" culture, many apps will let you disseminate your images into the wilds of the Internet—and quickly, at that. However, this often leads to a fractured experience for the photographs themselves: I know my own pictures are currently published across no fewer than seven different services, the result of often picking up an intriguing new app—I'm looking at you, Color—only to lose interest days later.
Image service Photobucket thinks it's come up with a way to combat the problem. The company's Snapbucket app, released earlier this month, allows you to not only host your images on Photobucket (where they can be accessed anywhere), but also style them in-app and share them with friends on your favorite social media service. And it succeeds, to an extent.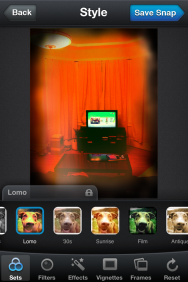 Photobucket's aim for one-stop photo snapping, styling, and sharing is clear from the moment you open the app: Upon launch, you're greeted with a live preview of whatever your iPhone's rear-facing camera happens to be pointing at; from this view, you can also switch to the front camera or enable the flash, though there's no option to enable the iPhone 4's High Dynamic Range (HDR) feature. If you've already taken a photo you'd like to upload and style, you can access your photo library from the icon in the lower left corner.
Once you've snapped or chosen a picture, you're brought into the Style editor. Here, you can apply a variety of filters, effects, vignettes and frames—enough to put Instagram to shame—before moving on. In addition, you can combine categories—say, a Retro filter with an orange leak effect, a rough black vignette, and a grunge black frame—and save them as a "Set" for future application. (Photobucket also provides you with several pre-made Sets for some basic inspiration.)
This allows for a fair variety of customization, though I often found myself wanting to combine several effects within a single category—not currently possible. Also, the app's style window offers no controls for simple rotation or cropping, so if your photo's not precisely aligned the way you'd like it, you'll need another app to fix it. On the plus side, if you've taken a photo directly from within Snapbucket, you don't need to worry about figuring out how to extract it: Your unaltered photo is always saved immediately after capture.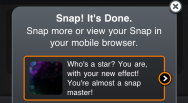 To upload and share your image, you'll need a free Photobucket account, which is easy to sign up for within the app. From there, you can authorize sharing to Twitter, Facebook, or e-mail; your final image will also be viewable on Photobucket.com. While you don't have to use Photobucket's sharing service to get your final snap—it's saved to your camera roll as soon as you leave the Style editor—the company rewards users who go that extra mile and actively post and share from within the app: As you upload more snaps, you'll start receiving extra filters and effects for your photos.
Snapbucket's sharing services are unfortunately still fairly rudimentary when it comes to unifying the many places I'd like to display my photographs (there's no Tumblr support, for one), and actually viewing any of the photos I've taken requires either a visit to Photobucket's Website or the downloading of the companion Photobucket viewing app.
In the end, Snapbucket has potential—and its ability to customize filters and save sets is quite a boon when it comes to quickly outputting stylized photographs—but it's not quite there yet.
[Serenity Caldwell is a Macworld staff editor.]