At a Glance
Expert's Rating
Pros
Quickly identifies original fonts
Built-in image adjustment tools
Cons
Can't identify customized fonts
No keyboard shortcuts
Our Verdict
Anyone who has tried to identify a font from a printed or online source (such as a poster, billboard, or movie credits) knows how difficult it can be. With tens of thousands of fonts in circulation, it's almost impossible to pinpoint a font ID without some kind of help.
Several Websites offer free services that attempt to identify a font from a sample you upload, including Whatfontis.com, and the WhatTheFont feature at MyFonts (which also has a free iPhone app). If you prefer to describe the font by answering questions about the shapes of unique letters in the font, try Linotype's Font Identifier or Identifont.
While online services are free, they may not identify the font unless it is sold by that Website. A more universal source is FontGenius 2, a desktop application.
Here's how the program works:
Open the image in FontGenius, drag a rectangle around the text, and have FontGenius identify the characters, and then the font, for you. The results FontGenius generates include all the fonts that the program considers a match. You may already have the matching font, but if you don't, you can double-click on it in the list and be taken to a Website where you can buy it.
FontGenius 2 works best with high-contrast, sharp-edged font images, and it includes several tools that help you adjust your image to increase the likelihood of identification. If you have a photo, scan, or screen capture of the font sample, and you want to adjust its sharpness and contrast without opening the file in an image editor, FontGenius 2 may be your best option. The software includes a handy tool for capturing images from Websites and digital documents. It also has an Auto Adjust feature that removes color, maximizes contrast, and attempts to make the text black—no matter what color it was in the original.
More often than not, I had to disable the Auto Select checkbox, which attempts to identify each letter, and instead type the characters in myself. This isn't too painful, since in most cases you're identifying just a few words. I suggest trying the standard identification routine first.
If the image is too large for the preview window, a slider lets you scale it down (or up), and a grabber hand lets you position it within the window. I wish there were keyboard shortcuts for switching among the tools, as I had to go back and forth multiple times during each identification session. For example, it would be handy to hold down the Option key or spacebar to temporarily invoke the Hand tool.
If the colors of the text and background are too similar for FontGenius to see the difference, you can use two color samplers to tell it which color is text and which color is background.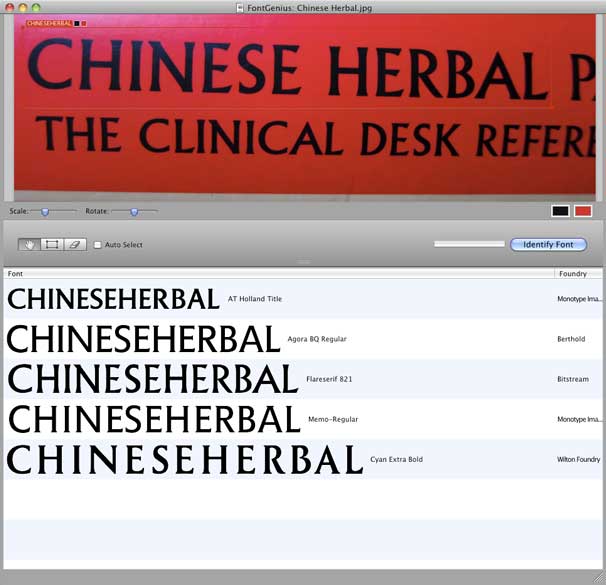 Other tools help adjust the image for best results. You can erase areas around the text, convert it from color to grayscale, and invert the image so that the text is black instead of white. A slider lets you rotate the image, but I found that text at a slight angle didn't create problems during identification. (You would use the slider only on images that are wildly tilted.)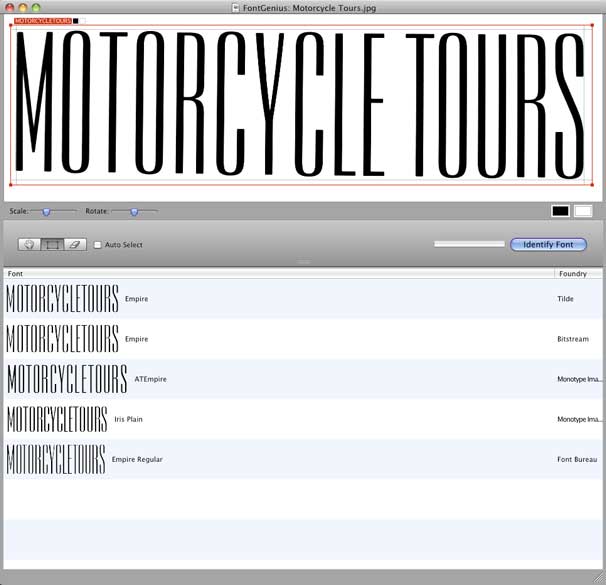 If the image needs further tweaking, you can use a Brightness and/or Contrast slider. In my test images, this tool didn't help—I found myself opening the images in Photoshop and adjusting it there. Fortunately, I could save the image in native Photoshop format (PSD), since FontGenius opens any image file format that Apple's Preview application opens, including PSDs, TIFFs, JPEGs, and GIFs.
To test FontGenius, I took photos of magazine pages, book pages, book spines, DVD covers, and CD covers with my iPhone 3G, and a high-quality point-and-shoot camera. In addition, I used an Epson scanner to scan some of the samples. The identification results in FontGenius varied dramatically based on the source image—you want to use the best quality camera you have. I didn't find a vast improvement in results by using a scanner, so for ease of use, I would recommend using a camera and a well-lit subject. Bottles and cans are not good subjects for this kind of process, by the way, since photos of text on a curved surface is skewed from its normal appearance.
Even with the best source images, FontGenius could only identify original fonts that had not been altered by the page designer—which unfortunately is often the case with book jackets, CD covers, and even headlines from major magazines. Magazines often commission font designers to adjust an existing font to make it unique, or to create a completely new font; book and CD designers often change individual letterforms to better fit the few words of the title, author, or artist.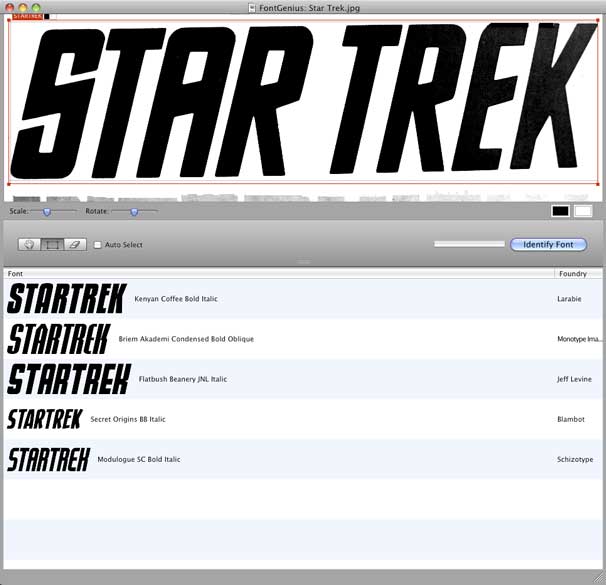 Of the 20 samples I tested, FontGenius identified seven correctly, missed nine, and came very close in four. I found it noteworthy that of the correctly identified fonts, none had been altered by the page designer. This means that FontGenius would be useful for designers who need to match fonts from printed brochures and other documents that use commercially available, non-customized fonts.
Macworld's buying advice
If you need to identify fonts from printed or online samples, FontGenius 2 is the best option available. It's not perfect—there are too many variables in typeface manipulation to guarantee success—but it's a huge timesaver when identifying non-customized fonts in brochures and other collateral material.
[Jay J. Nelson is the editor and publisher of Design Tools Monthly , an executive summary of graphic design news.]