"C'mon, Dad. We're going to be late!" I was practically bouncing up and down in the passenger seat of my father's dingy old '87 VW Rabbit as he pulled the rattling car into the parking garage. It was unusual for me to be the one urging my father onward so early on a Saturday morning. Usually, he was the one griping at me to get up for some hike or exploration around the Los Angeles basin. But this was no ordinary Saturday; we had arrived at the mall not to do any shopping, but to witness the opening of Apple's very first retail store * in Glendale.
I had been talking about this for weeks, much to the dismay of my peers, who would have rather discussed next month's Wango Tango concert—featuring such delightful pop sensations as the Backstreet Boys and Britney Spears—than listen to me drivel on about how cool it was that Apple was going to have its very own store. At the time, after listening to yet another rant about my excitement over "real live Apple Geniuses!", I remember one of my classmates saying, "Great. Does that mean you'll talk to them and stop bothering us about it?" (They didn't get it.)
So there I was at 9 a.m., clawing at the door of my father's car, urging him to get parked faster, to hurry up or we'd be last in line and wouldn't that just be the worst thing ever. Admittedly, I was a bit over-dramatic as a child, but I was excited!
And really, it was all my father's fault, anyway. He worked at Caltech, and had access to a myriad of delightful Apple products over the years. I'm not entirely sure whether the many computers that graced our house were hand-me downs from the college or my father's own personal obsession, but growing up, I was never far away from a Mac. At 18 months old, before I ever put pencil to paper, I learned to draw a mouse in MacPaint on our little beige Mac Plus. By ten, I had my own iMac; by 12, my very own laptop—my father's old Mac Duo, passed down to me after he bought a sleek black Wall Street PowerBook G3. My dad even corralled Caltech to donate a whole fleet of Performas and Mac Pluses to my elementary school to replace the mass of DOS machines we were learning on, so as—I liked to think—to keep my sterling eyes free of any Windows contamination.
My dad, for what it was worth, seemed excited himself, though clearly not enough to go 40 mph in a 15 mph garage for a quicker parking experience. But that aside, he was still skeptical that we'd be facing any sort of line. I'd wanted to go much earlier—at 7 a.m., I was dressed and ready, a Saturday miracle—but he'd waved it off. "The store opens at ten, Serenity. I doubt anyone's going to start lining up more than an hour in advance."
I would have laughed at him when we saw the line of people snaking all the way out the mall onto the parking garage's top level, had I not been so furious. "We're not going to get in!" I whined. "I heard someone say they'd been here since six!" My father, surprisingly gracious, listened to my rather obnoxious complaints for the next hour without smacking me over the head. (Something I don't think I would have been nearly so patient with, had I been waiting with my younger self at the time.)
Thankfully, my fears were unfounded: At 10 a.m., the line slowly started to move. I heard cheering from the mall corridors, and tried to stand on my toes to see if I couldn't get a glimpse of the action—not terribly likely from my position on the parking causeway, as I was still outside the mall itself. A woman wandered down the line from the parking lot, and asked the crowd "Is there some sort of Macy's sale going on?" When she heard all the hooplah was for some computer store opening, she snorted and shook her head. "Computers," she scoffed. "Load of rubbish."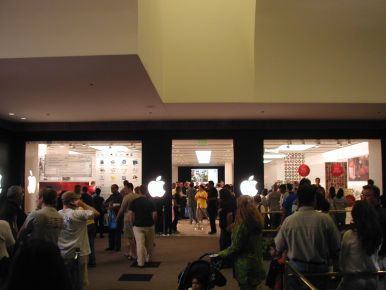 It took us another half-hour to navigate inside the mall to the front of the store. Apple had spared no expense: The storefront was massive, its opening banked by two black pillars with glowing Apple logos, giant glass windows to either side for the curious to peer inside. At the pillars, two Apple employees were handing out what looked like pneumatic tubes to those entering the store.
As we approached the employees, my frustration at the wait had turned into outright glee at the prospect of walking through those black columns. "What are those?" I asked the Apple employee as we walked up to the door, my eyes wide as saucers.
"T-shirts!" He grinned, and pulled a shirt from the box behind his feet, free from its tubed encasement. All white, with a blue Apple logo and the store name—"Glendale"—emblazoned underneath. With a wink, he stuck two of the tubes into a silver Apple shoulderbag and handed them over to me. "Enjoy!"
I let my father get his own shirt and ran into the store. iMacs, PowerBooks, and towers filled the store's tables, divided up into sections: There was Home, for iBooks and iMacs; Pro, with its shiny PowerBooks and G4 towers; and Music, Photos, and Movies, where I saw people crowded around an iMac as an employee showed someone how to burn a CD.
In the middle of the store stood a square of squat black bookshelves, filled with all the Mac software a girl could want. "And this will all run on an Apple, you say?" I heard a customer ask one of the employees. With a smile, the employee nodded. "Every piece of software in the store works on a Mac, ma'am."
I somewhat guiltily let my eyes wander over to the Kids section, where an entire wall of games stood, waiting to be perused. In the past, I had spent hours in Comp USA and Electronic Fry's looking for boxes with that illusive Mac face icon on the front, only to walk away disappointed. Yet here it was: An entire section devoted entirely to things I could play on my computer. There was even a shorter wooden table on a green carpet with four Flower Power iMacs, all of which were pre-loaded with kids' games. I spotted Bugdom—a personal favorite—but the computers were occupied, and I didn't feel like waiting.
In the back, another employee was doing a demonstration on a giant projector screen while dozens of attentive attendees watched from wooden benches. The Theater, it was called. I spent a second listening to the speaker demonstrate adding applications to the Dock—I know how to do that!, I thought with pride—before wandering over to the attraction I was most excited to see: The Genius Bar.
Though you couldn't order drinks while the Geniuses helped you, it was still an impressive monument, a long white table with an array of smiling Apple employees dressed in black answering questions. Behind the bar, there was another wooden table, upon which sat a red telephone.
I'd heard about this phone. Supposedly, if you asked a question that stumped the Geniuses, that phone connected directly to an expert in Cupertino, at the ready to solve even the most obscure hardware or software question. I climbed up on a stool and pointed at the phone. "Have you had to use it yet?" I asked one of the Geniuses, who laughed.
"Not yet. We're hoping we can get through a day, at least. We're trying to beat the guys at Tysons. Someone stumped their team an hour into opening!" Tysons Corner was the store that had opened earlier that day, in Virginia. I had no idea if the Genius was telling the truth, but I liked the idea.
"I don't have any stumping questions, I don't think," I said, biting my lip.
The Genius smiled. "What about regular old questions?" I nodded, and shot off a couple of questions about iMovie and iTunes, which he answered easily. I chatted with him for a few minutes before another customer approached to ask something about FireWire, then just sat on the stool and listened for a good ten minutes more. Though I knew a great deal of the answers the Geniuses were doling out, it was all fascinating. These were my people, without a doubt.
As I was listening to a man ask one of the other Geniuses how to get a file from a Windows PC to a Mac, my father walked up behind me, a mouse in hand. "C'mon, kiddo. Time to go."
"But!—" I yelped. He shook his head, and took my hand, pulling me off the stool. With a smile, however, he looked at me and said: "But—we'll come back next week."
I couldn't wait. I took in the rest of the store, determined that next time I would spend more time in the Theater, or play with the cameras and iMovie, or…
"How old do you have to be to work here?" I asked one of the employees, as she rung up my dad's mouse.
"Eighteen," she replied. "What, you want a job?"
"I could totally work here," I shot back. "I bet I know more about all this than half your staff!"
My father rolled his eyes. "C'mon, Serenity." He took his bagged-and-paid-for mouse in one hand and my shoulder in another, guiding me out the door. As we left, I looked back, continuing. "I could work there! I could! You'll see. I totally will. You get to play with computers all day! How is that not the best job ever? I'll bet I can even get them to hire me before I'm 18…"
* Some argue that Apple's first retail store was technically Tysons Corner in Virginia, due to its earlier east coast opening on that Saturday. However, despite this, Glendale holds the designation R001 in Apple's internal database. (Also, as it was the first store I visited, it will always be my first store.)
[Despite being a precocious brat of a 13-year-old in 2001, Serenity Caldwell eventually grew up—and even got to work at an Apple Store. She still has her opening-day t-shirt.]