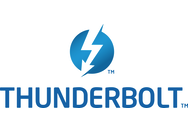 It has emerged that it is actually Apple that owns the Thunderbolt trademark, and not Intel.
According to MacNN, documents filed with the US and Canadian trademark offices reveal Apple is claiming the trademark, based on a filing it made in November 2010 in Jamaica.
A search of U.S. and Canadian trademark records show that Intel has made no direct claim to the term Thunderbolt, despite being widely credited with its invention when it was first unveiled in the new line of MacBook Pros launched in February.
Intel had earlier outlined the technology, which was codenamed Light Peak at the time, which is able to transfer data between host devices and external devices at speeds of up to 10Gbps (gigabits per second) in both directions.
As yet only Apple has used Thunderbolt technology in its product line, with Sony rumored to be considering using it but HP recently opting for USB 3.0 over Thunderbolt in a new line of desktop PCs.
It's possible that Intel's technology will be given a different name if and when it is used in other companies' products, leaving Apple to use the Thunderbolt name exclusively. But it does seem odd that packaging for the early 2011 Thunderbolt MacBook Pros state that Thunderbolt is a registered trademark of Intel, as pointed out by Apple Insider.