Earlier this week, my friend and Macworld colleague, Dan Frakes, posted a series of tweets lamenting a frustrating problem he was having with his iPhone. It began with a seemingly innocuous act: charging his iPhone overnight. The next morning, Dan's iPhone had "reset"—with the result that the ordering of his home screen icons was jumbled and all his painstakingly assembled folder organization was gone.
Undeterred, he restored his iPhone in iTunes, figuring that this should return everything to its prior state. Oops. It didn't work. The iPhone's home screens remained unorganized and his folders empty. He tried restoring five more times with the same unhappy result. (Insert your own joke here about the definition of insanity) He even tried restoring from a prior version of the iPhone's backup. A smart move; but still no luck.
I exchanged tweets with Dan during this distressing incident. At one point, I suggested that, when he figured out what was going on, he should let me know. I told him it would likely make a good Bugs & Fixes article.
Not surprisingly, Dan did soon figure out what was going on. He not only identified the cause of the bug but came up with an effective fix. Unfortunately, he did not forward me the fruits of his labor. Instead, he had the audacity to write up and post his own article.
But wait! I could provide a link to his article (as I just did) and make that my column for the week. Win-win. After some reflection, I concluded that this would probably not sit well with my editors. I needed to do something more.
So here's the deal. The crux of Dan's solution (you can read all the details in his article) was to do a complete restore of the iPhone (as initiated via the Restore button in the Summary screen for an iOS device) and follow that with a restore via the Restore from Backup command. The latter restore is accomplished via a command available in a contextual menu, accessed by Control-clicking on the listing of your iOS device in the iTunes' sidebar.
The Restore from Backup command is not a duplicate of a full restore. As seen in the dialog that pops up when you select the command, it only performs a subset of what a full restore does.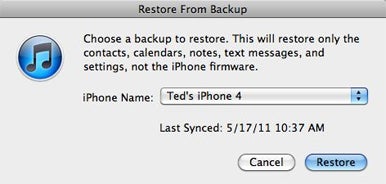 Restore from Backup is a little-known troubleshooting asset that can prove useful in a variety of situations. This command should definitely be in your troubleshooting arsenal. Beyond what Dan described, here's one more reason to use it.
Imagine you're having some odd problem with your iPhone. You check Apple Support for possible solutions and they recommend launching the Settings app, navigating to General ->
Reset and tapping "Reset All Settings." Dutifully, you do so. Unfortunately, it does not eradicate your symptom. So now you're left with your original problem plus an iPhone with all of its non-default settings gone.
Let's say you soon find a simple fix for the original problem or decide to ignore it for the moment. Of greater concern now is getting all your deleted settings back. How can you do this with the least amount of hassle?
One option would be to redo the settings manually, assuming you even remember what they all were. Not a happy prospect. A second choice would be to do a complete restore of your iPhone. While this should work, it's time-consuming, requiring that all your apps and media (music, video, photos) be erased and copied back to the phone. There's a better way. You guessed it: Use Restore from Backup. This restores "settings" but without requiring the recopying of media and apps. I've used Restore from Backup for this purpose on several occasions. It works great.