Roku's $100 XDS is emblematic of a lot of today's set-top media players. Like D-Link's Boxee Box ( ), Logitech's Revue ( ), and Western Digital's WD TV Live Plus ( ), the XDS streams video and audio from the Internet and (with some work) from local sources to an attached AV system. We picked the XDS because of its price and flexibility.
The XDS is Roku's top-of-the-line streaming player. Like other Roku players, it streams video from the Internet, supports both wireless and wired network connections, and includes an HDMI port for connecting the player to your TV. It offers 802.11n wireless networking, includes dual-band wireless technology (for better-quality video), offers composite- and component-video output (as well as optical digital audio), and sports a USB port for playing music, videos, and photos stored on an attached external drive.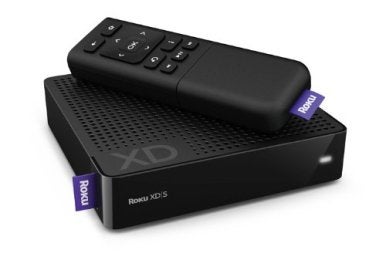 It also supports 1080p HD video. This sounds attractive, but most Internet HD video is encoded at 720p. Pushing out true 1080p video requires a lot of bandwidth, so while the player may be capable of playing such content, you may have a hard time finding it unless you're streaming it from a local network source.
Setup and Control
Setting up a Roku player is only slightly more onerous than configuring an Apple TV. When you first connect it to your AV system you'll be presented with a linking code. You use this code to register your player on Roku's Website and create a free Roku account (though you will be charged for adding some premium channels). Once you've registered your device, you have access to the player's content, which is offered in channels.
By default, the player's home screen offers links to the Channel Store, Netflix, Amazon Instant Video, and Hulu Plus. To add one of these services, you have to log on to the service's Website with your computer, create an account if you don't already have one, and register your player by supplying a registration code displayed on your TV screen.
To add additional channels, simply select the Channel Store and browse through the collection of offered channels. Many are free, but there are some premium channels you must purchase. Those premium-channel purchases are charged through your Roku account.
All Roku players include the Roku remote, a candy-bar-size remote that includes controls for navigating the player's menus. In addition to the four-direction keypad featuring OK, Options, Home, Back, Play/Pause, and reverse- and forward-scan buttons, it carries an Instant Replay button for skipping back a few seconds.
Content
The Roku XDS is far more Internet-friendly than the Apple TV. It, too, supports Netflix, MLB.TV, and NBA League Pass streaming, but can also access a load of other Internet content (often on a pay basis) including TV shows and movies from Hulu Plus; live hockey games from NHL GameCenter Live; streaming music from Mog, Pandora, and Shoutcast; video from Vimeo; photos from Flickr and Picasa; and much more. You add these channels through the device's Channel Store. You can additionally add private channels—that is, channels not offered specifically through the Channel Store. To add a private channel you must know its code (you can find a listing of some channels on the unaffiliated Roku Channel Database). Once you have that code, go to Roku's Add Channel page and enter it.
A recently implemented feature also lets you connect an external USB storage device to the player and play the content on that drive via the Media Player channel. This channel supports H.264 and MPEG-4 video, AAC and MP3 audio, and JPEG and PNG photos. The USB Media Player channel does not support playlists, so if you want to more easily navigate to music stored on a drive, group the music you want to play into folders and select the folder of music you want to hear. Using this arrangement, you can play the entire contents of a folder you view through the Media Player channel.
By default, Roku players aren't configured to play local media—the audio and video files you store on your Mac. The add-on Roksbox channel provides a way to stream video and audio from a computer on your local network, but setup is clumsy, requiring that you set up a server on your Mac by using OS X's built-in sharing tools. Alternatively, you can access a portion or all of your iTunes music collection by uploading it to the MP3tunes Web service. A free account includes 2GB of online music storage, but you must listen to the occasional ad; 50GB, 100GB, and 200GB plans cost $40, $74, and $140 a year, respectively. As neither of these solutions is ideal, the ability to play media from an attached USB drive is all the more attractive.
Although the Roku player doesn't allow you to purchase or rent content from the iTunes Store—no non-Apple devices do—the player does support Amazon Instant Video. Movie rentals from the service are $5 for recent HD titles (older titles are generally $4, though you can find some movies for $3). Standard-definition titles are $4 for new titles and $3 for older titles (some titles are available for $2). You can purchase new movies in standard definition for $15—older titles normally go for $10 to $13. You can rent HD TV episodes for $1 each and purchase episodes for $2. Unlike with iTunes Store purchases, you don't download the movie to your computer. Rather, Amazon keeps a record of what you've purchased and makes it available to you for streaming whenever you want to watch it.
The Roku is…
Best For Anyone looking to easily browse and play Internet media and media stored on an attached hard drive, as well as Hulu Plus, MOG, and Pandora users will like the Roku XDS.
Not Ideal For People hoping to easily stream content from their computers or those wishing to have access to the iTunes Store from their set-top box won't find what they're looking for in the XDS.