More than any earlier incarnation of the product, the latest version of Apple's diminutive Mac mini is tailor-made for the living room, thanks in large part to the HDMI port built right into it. Capable of transmitting both video and multichannel audio, and with support for resolutions of up to 1080p, this port makes adding a Mac mini to your AV system tempting.
In addition to the HDMI port, the $699 Mac mini includes a 2.4GHz Intel Core 2 Duo processor, 2GB of RAM, a 320GB 5400-rpm hard drive, an 8X SuperDrive, Nvidia GeForce 320M graphics, four USB 2.0 ports, a FireWire 800 port, an SD card slot, a Mini DisplayPort connector, gigabit Ethernet, and an audio input port and a headphone/audio output port (both supporting analog and digital audio). As with all Macs, the mini doesn't support Blu-ray disc playback (although you can buy an external Blu-ray drive and use it to rip your purchased movies for playback, as well as to burn data and media to Blu-ray discs, by using a tool such as Roxio's $100 Toast Titanium).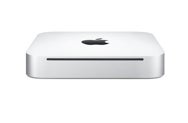 Sleek and capable though the Mac mini is, it could use some improvement. For instance, the 5400-rpm hard drive that comes with it is both on the slow side and, for people who want to cram a lot of large media files onto their Macs, a little cramped. Fortunately, you can alleviate both issues by purchasing a faster and more capacious external hard drive. You can pick up a 1TB FireWire 800 drive for around $120.
Similarly, the RAM allotment is a little skimpy. The default 2GB of installed RAM allows you to run many applications simultaneously on the mini, but you'll find it a more responsive computer if you install additional RAM. While you can order the mini with more memory, you can do the job far less expensively by purchasing compatible RAM elsewhere and installing it yourself. As we go to press, an 8GB upgrade costs just under $100. Apple charges $200 to configure the mini with 8GB of RAM. Upgrading RAM on the latest mini is far easier than it was with earlier models. Rather than having to pry open the computer with a pair of putty knives, all you need to do is flip it over, twist off a disc on the bottom of the mini, pop in a new RAM chip or two, and reassemble.
Setup and Control
Getting a lot of content via a Mac mini is no problem. As a Mac, it has access to anything you can load onto it or find on the Internet—Websites, streaming services, you name it. The knock against the Mac mini as media server is that, while it's extremely flexible, operating it can be complicated for people who aren't familiar with computers (some family members, for example). Apple provides a solution for managing local and networked media with its Front Row media player, which anyone can easily operate via Apple's Remote Control or a wired or wireless keyboard; but Front Row is no help for handling Internet media.
Using a Web browser such as Safari or Firefox for managing some media—YouTube and many streaming services, for example— is fine, but doing so means that you have to hop between different Websites and noodle with settings to allow the content to play full screen. Several media player applications such as Boxee, Plex, and XBMC can provide access to both local and Internet media, although setting up and operating them isn't a slam dunk (particularly setting them up to play media on your network). Also, media outlets such as Hulu that don't care to have their content accessed through these applications means playing the occasional cat-and-mouse game to get them to work—either by using a dedicated app or by visiting the sites via a Web browser.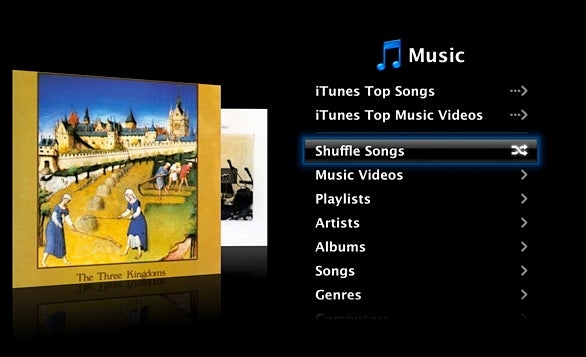 And then there's the question of control. Apple's hardware remote can navigate Front Row and work with Apple's media applications and the media browsers previously mentioned, but it's not useful for marching around the Mac's interface. There are iOS apps that let you control applications like Boxee, Plex, XMBC, VLC media player, and others, but if you want full access to the Mac from the couch, a Bluetooth keyboard and trackpad or mouse is your best solution. And while those devices are certainly capable controllers, using them makes it even more clear that you're using a computer rather than an easy-to-operate media center.
Content
What kinds of media can you access with the Mac mini? Virtually everything. With iTunes built in, the Mac mini provides access to your iTunes library, Internet radio, and all the audio and video content available at the iTunes Store, including music, music videos, podcasts, movies, TV shows, and iTunes U content. You can play CDs and DVDs thanks to the mini's SuperDrive. With a Web browser and a variety of applications, you can play just about any media available on the Internet, including Netflix, Hulu and Hulu Plus, YouTube, Vimeo, Pandora, Rhapsody, Napster, Mog, Rdio.
If you're willing to spend a little extra, you can purchasethe necessary items for playing and capturing over-the-air HDTV broadcasts (such as Elgato's $100 EyeTV One or $150 EyeTV Hybrid ( ) and radio broadcasts. If your media consumption dates back to the predigital era and you have cupboards crammed with VHS tapes, audiocassette tapes, vinyl LPs—even 8-track tapes, if you can find a working player—there are a number of options for capturing and converting that media including BIAS's $50 SoundSaver ( ), Elgato's $100 Video Capture ( ), and Roxio's $80 Easy VHS to DVD ( ).
The Mac mini is…
Best For Technically savvy people who want access to as much media as a computer and the Internet can provide will want to go with a Mac mini.
Not Ideal For Users who want a simple system that plays local, networked, and Internet media with the touch of a couple of buttons should look to the Apple TV or the Roku XDS.
The last word
The HDTV has become the center of our digital-media consumption, and for good reason: it's much nicer to sit back on the couch and watch content on a 46-inch widescreen TV than to crowd family and friends around an iPad, computer monitor, or laptop display (even when the computer monitor belongs to a 27-inch iMac or 17-inch MacBook Pro). And thanks to devices like the Apple TV, Roku players, and Mac mini (not to mention the built-in capabilities of many HDTVs, Blu-ray players, DVRs, and on-demand satellite and cable TV receivers), you can now sit in front of your HDTV and soak up more media than ever before.
The Apple TV is great for playing local content, the video rental component of the iTunes Store, Netflix, YouTube, and streaming NBA and MLB content, but it's largely clueless about the rest of the Internet. Devices such as the Roku player definitely have their charms, but you can't count simple access to media on your network or an avenue into the iTunes Store among them. The Mac mini is a terrific media tool that can access just about anything; however, it's more complicated to use and control than a living-room media component should be.
In other words, no device is perfect, nor can it provide access to everything you might want to see. With time, advancements in technology, and—most importantly—agreements among the various media companies, we can hope that we'll have increasingly greater control over the media we view on our TV screens. Now that's entertainment.