If I asked my friends what they were up to early on a Sunday morning, I imagine answers would range from "having brunch" to "going to church" or "I was asleep—why on Earth are you calling me before 1 p.m.?" Admittedly, I usually practice similar habits, but not on this particular Sunday morning. This Sunday saw the launch of what bloggers have taken to calling "Apple Store 2.0," Apple's revamped retail experience.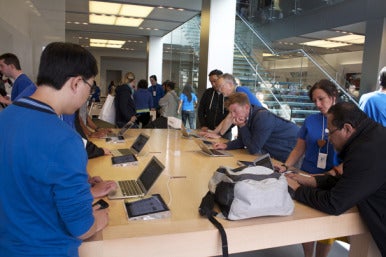 Senior associate editor Dan Moren and I trekked over to the flagship Apple Store on Stockton Street in San Francisco to take a quick peek at the changes. (Admittedly, after brunch—we do have standards, after all.) The first and most notable alteration: the removal of the paper sign wedges decorating the store's many merchandise tables. Instead, an iPad 2 is comfortably ensconced into a clear plastic wedge next to each product on the table, from MacBook Airs to iPod touches and—yes—even iPad 2s.
Unlike their shelf counterparts, these display iPads are designed to do one thing and one thing only: Showcase current information about the product on display. The home button has been disabled, turning the device essentially into a multitouch signboard. (Like the iPad itself, the whole thing has an air of 1960s science-fiction to it.) The iPad is elegantly sealed inside its stand, charged using a nifty almost-invisible dock connector ribbon and half-mirrored sides to mask the wires.
Though the information is different depending on the product you're viewing, the app itself largely keeps the same graphical interface: The product name is displayed at the top, with an image below the title, and a row of tappable categories beneath. On the MacBooks, for instance, you could choose between Features, Compare, New to Mac?, Support, and Specialist.
The first two categories focus on the device itself: Features displays the product along with a row of captions and icons of its key attributes—like a FaceTime camera, or long-lasting battery life—all of which are tappable to bring up more information in a pop-up window. Compare, meanwhile, displays a side-by-side scrollable list of all the available models of a certain product. New to Mac focuses on general facts and figures about the Mac, while Support targets the Store's services, like the One to One teaching program and the Genius Bar. The last tab, Specialist, allows you to call over a store employee for more information or for purchasing help: Like Genius Bar appointments, you'll be placed in a queue until an employee is free to come give you a hand.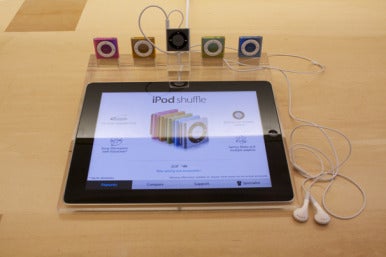 While the app embodies Apple's general aesthetic, I found the actual navigation process to be a bit unintuitive: The tabs themselves are fixed-width pages, and the icons present no obvious "Click me for more information" hint, resulting in me attempting to scroll an un-scrollable page on at least two or three occasions. To be honest, the app reminds me more of navigating through Virgin America's on-board touchscreen system (or any other commercial touch system on the market) than a typical iPad app. That said, I wouldn't be surprised if the move was intentional, to ease new customers into informational displays they're familiar with.
On the whole, the fixed-position iPad signboards give the store a much cleaner look—and as someone who used to have to manually move sign wedges back into position 15 times a day while on the floor of an Apple retail store, I imagine there are many happy employees today. (Sadly, we saw no party hats.)