Few of us will ever sit in the cockpit of a C-101 Annihilator as an enemy fighter bears down on our six, but Metalstorm: Online looks to bring that experience to your iPhone, iPod touch, or iPad. The aerial combat offering makes an impressive debut, but developer Z2Live will need to make a few tweaks if this game is to truly take flight.
The first time you launch Metalstorm, you'll get to choose a plane—the aforementioned Annihilator, the F-7 Wrath, or the E-14 Tempest; the trio of jets each boast different attributes when it comes to speed, attacking, and defensive capabilities. You'll also get a small bankroll you can use to upgrade your plane's missiles, cannons, and technologies, but if you really want to trick out your jet, you'll need to earn money and experience points. You can do that by flying missions or via the old-fashioned way—by using actual money to buy virtual coins. The in-app purchase route may not stoke your sense of accomplishment, but it's a far quicker route to turning your plane into all that it can be than the relatively modest gains in coins and experience you make by flying missions. It's also the way that Metalstorm, a free download, turns a profit. Purchases can cost you anywhere from $1 to $50, depending on how sizable a budget you want.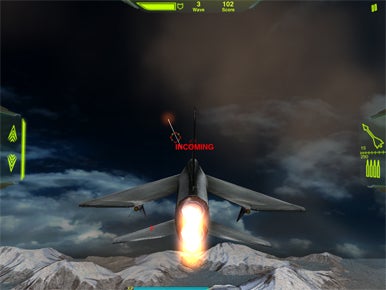 A pretty intuitive control scheme allows you to pilot your jet. You tilt your iOS device in the direction you want to fly, while on-screen controls allow you to accelerate and slow down. You also can tap on-screen buttons to fire missiles or let loose a hail of bullets. Red dots let you locate your enemies and alter your course to either track them down or avoid the missiles they've shot at you. You can evade that enemy fire by using swipe controls—a side-to-side swipe performs a barrel roll, swiping downward makes your plane flip 180 degrees, and swiping upward performs a rapid climb.
The controls are easy to master after just a few sorties. The background music sounds like something out of a Hollywood blockbuster, and the graphics impress, too—more so on the iPad's larger screen, though I find the smaller iPhone more ideal for Metalstorm's tilt controls.
You can take on computerized bogies in Metalstorm's Survival mode, in which wave after wave of enemy fighter appears just as soon as you shoot down another jet. But it's the game's multiplayer features—tied heavily into iOS's Game Center—where gameplay really shines. You can join forces with another player to take on waves of enemy fighters in Survival mode. Or you can pit your flight skills against a human opponent in Versus mode—Metalstorm either lets you invite a friend for a match or finds an opponent for you. Versus matches last two-and-a-half minutes and are a lot of fun—particularly if that pilot you've just blasted to kingdom come is a close, personal friend you can easily taunt.
As great as the multiplayer mode is, however, it also exposes some of Metalstorm's most notable flaws. While Metalstorm makes great use of Game Center's ability to find online opponents, it doesn't always do a great job of matching you with someone of equal skill. In more than a few Versus matches, I've been paired with an opponent with double the amount of skill points that I possess. The battles go about as swiftly and as brutally as you'd imagine.
Sometimes I'll be taking on another human opponent in Versus mode, when the game will stop before the two-and-a-half minutes are up and I'll be declared the winner. Did my opponent surrender? Did he lose his connection to Metalstorm's servers? The game never makes this clear, and it really should.
Another thing that could be more clear—what's causing all that damage in Versus mode. Metalstorm does a great job of alerting you to enemy missiles—an "incoming" message flashes on the screen, the game beeps with increasing intensity as the missile gets closer, and if you're hit, there's a tremendous explosion. Damage from cannon fire, on the other hand, is less obvious. I'll be flying around, when suddenly, I'll spot that my shields are sustaining noticeable damage. There's no detectable noise or peal of gunfire to alert you that an enemy's got you in her sights; having some clue might help you take evasive action.
Metalstorm boasts a terrific audio chat feature that allows you to communicate with opponents. It's great for firing off witty bon mots as you fire off missiles in Versus mode, and even better for coordinating attacks when teaming up with another person in Survival mode. Unfortunately, it's not that easy to find—you tap the pause button to access the audio chat controls once a game has started. The problem is, fumbling to find that control can have disastrous consequences: My colleague Dan Moren and I both crashed our respective planes while trying to turn on the feature. I'm not sure why Z2Live makes such an impressive capability so difficult to use.
The good news is that none of the current issues that exist with Metalstorm: Online are so massive that they can't be fixed with a minor update or two. In the meantime, Metalstorm is a perfectly fine aerial combat game that only figures to improve with time.
[Believe it or not, Macworld.com executive editor Philip Michaels has never actually watched Top Gun.]