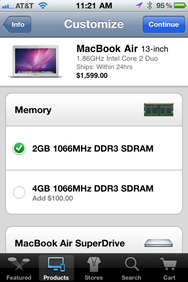 It's not just Apple's retail stores that underwent a bit of a makeover over the weekend. The company's Apple Store iPhone app scored a few updates of its own.
New in version 1.3 of the Apple Store app is an enhanced in-store mode. When you're comfortably ensconced in the white walls of your neighborhood store, you can fire up the app for various bits of interactivity, at least some of which seems genuinely useful. For example, the app can alert you to the next available time slot for a Genius Bar appointment, along with a countdown to the next scheduled in-store workshop event. You can also tap a button to request that a customer service representative come speak with you in the store.
The other major addition to the app is useful even when you're not at the Apple Store: You can now customize build-to-order Macs with the app. Previously, you could only use the app to purchase stock hardware configurations; but customers craving more RAM, additional pre-installed software, or upgraded hard drives no longer need to fire up their Web browsers, as the updated Apple Store app can now handle such upgrades.
The Apple Store app is free and requires iOS 4. It's optimized for the iPhone and iPod touch—no native iPad version is available. In Macworld's testing early Monday morning, the app experienced some loading and lag issues, seemingly related to increased server load on Apple's end; Mac shoppers, it seems, are eager to take these newly unveiled features out for a spin.