Music and lyrics—there's a reason you hear those two items discussed together, because they are equally important parts in the composition of a song. While you can tap your foot or strum along with a tune on your air guitar, you can't sing along if you don't know the words. And how frustrating is that?
Lots of CDs provide lyrics in liner notes, but songs purchased from the iTunes Store or ripped from your CDs don't include that information in the files. (Gracenote, the company that provides metadata for the iTunes Store and for the CDs you rip in iTunes, does offer lyrics, but Apple hasn't included the lyrics portion of Gracenote's database in iTunes yet.) You may have digital liner notes in PDF format from some online purchases, but, again, viewing them while you listen to music isn't always easy. But iTunes can still help you sing along by letting you add lyrics to your music files, which you can then view in iTunes or on any iPod or iOS device (with the exception of the iPod shuffle).
Pasting and viewing lyrics
Adding lyrics to a song is easy. In iTunes, select a track, choose File -> Get Info or press Command-I, then click on the Lyrics tab. You'll see a big text field, into which you can paste lyrics that you've found on a Website, transcribed from liner notes, or deciphered when listening to a song (you can add lyrics to both purchased and ripped-from-your-own-CDs songs). Click on OK, and iTunes will save those lyrics to the file. The next time you sync your device, iTunes will copy your modified music files to it (assuming you've set it to autosync—otherwise you'll have to update the songs by hand).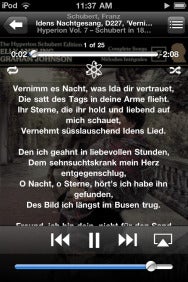 When listening to music with iTunes, you can view lyrics as your songs play; just press Command-I to bring up the same Info pane. On your Mac, a handful of apps display lyrics as you listen in iTunes. Philipp Seibel's $1 MiniLyrix provides a heads-up display showing lyrics, as well as a mini iTunes controller. And imagomat's free Cover Version visualizer plug-in displays lyrics over album art, if you put iTunes in visualizer mode by pressing Command-T.
Viewing lyrics on an iPod or iPhone depends on the device. On an iPod classic, press the center button four times while a song is playing to view its lyrics. On the iPhone and iPod touch, tap on a song's album art to show or hide the lyrics. And on the current iPod nano, tap on the cover art, then swipe to the right twice. You'll have to squint a bit, depending on which iPod you have, and you'll need to scroll every once in a while to get the backlight to stay on (unless you have it set to stay on permanently), but you can scroll up and down and sing along as you please—just keep in mind that others nearby may not be as enthralled with your singing as you are. To dismiss the lyrics screen, on the iPod classic press the center button again; on the iPhone, iPod touch, and iPod nano, tap on the lyrics.
Finding the right words
It's a breeze to add and view lyrics—the hard part can be to actually find the lyrics you want. Lyrics, like music, are copyrighted, and a number of court cases have raised questions about whether Websites can host collections of lyrics, or whether tools to find them are legal. The lyrics-fetching program pearLyrics, for example, was forced out of existence by legal threats, and Lyrica ( ) was pulled from the Mac App Store over similar issues. While plenty of Websites provide collections of lyrics, there's no guarantee that the sites will stick around. A site like LyricsOverload, powered by LyricFind's legal database of lyrics, is a good place to look (and there are also many iOS apps, including official ones from LyricFind, that let you look up lyrics on the go).
Many performers provide lyrics to their music on their own Websites. Bob Dylan's site has lyrics to all his songs; the official U2 Web site has all of the band's lyrics; and you can even get lyrics for all of Lady Gaga's music on her Website. The LyricWiki Website offers lyrics for more than a million-and-a-half songs, via Gracenote's lyrics database.
If you're interested in classical music, you'll find opera libretti online at places such as Lyle K. Neff's Libretto Homepage, and if lieder or art songs are your thing, the Lied And Art Song Texts Page has nearly 60,000 texts in many languages.
To find lyrics on the Web, try searching for the name of a song or artist and the word lyrics in Google. You'll find several sites to choose from, though these lyrics may not be very accurate; many of the sites seem to exist more to display ads or sell ringtones than to provide trustworthy lyrics.
As a last resort, you can type the lyrics yourself from liner notes or even transcribe them while listening to your favorite songs. Of course, this can be hard, as lyrics aren't always clear, and you may end up with mondegreens—passages you've misheard. You'd be surprised how often people think the Beatles are singing "the girl with colitis goes by" instead of "the girl with kaleidoscope eyes" in "Lucy in the Sky with Diamonds."
Automatically adding lyrics
equinux's SongGenie 2 ( ) can scour your iTunes library in search of lyrics and add them, either manually, after you've confirmed that they're correct, or automatically. (The program can also find album art and correct erroneous tags.) It has some weaknesses—I've found that any song with extraneous text in its title, such as [Live], (8/27/72), or "feat.", as well as most songs with segue marks (>) baffle SongGenie. Yet for most music libraries, the program will do a good job fetching lyrics. If it can't find what you want, it lets you do a Web search from within the program; this is more time-consuming, but you will, eventually, find the lyrics for your music.
More than just lyrics
The iTunes Lyrics field can accept any text, meaning that you can put more than just lyrics in it. You could, for example, include liner notes, biographies, libretti, and more. The British classical label Hyperion Records has recently started doing just this. If you purchase any of its recent music by download (Hyperion is currently adding this information to its back catalog) and look in the Lyrics field on iTunes (or bring up lyrics on an iPod or iOS device), you'll see sung texts, if any, and full liner notes.
Interestingly, Hyperion has discovered that, while iTunes does not limit the length of texts in the Lyrics field, iPods truncate these texts at around 24,800 characters, or a bit more than 4000 words. While this isn't a problem for most songs, it actually does cut off some of their liner notes, which can be long and full of interesting information.
Reading texts of this length from the iTunes Lyrics field, or on an portable device, is not ideal, but being able to access such information about your music at any time can be a plus when listening to classical music.
Singing along
You probably won't want to use your iPod when you sing in the shower—and the people on the bus around you might not appreciate your voice—but adding viewable words to your songs can help you rediscover the power of great lyrics and help you enjoy your favorite songs even more.
[Senior contributor Kirk McElhearn writes about more than just Macs on his blog Kirkville. Twitter: @mcelhearn Kirk is the author of Take Control of iTunes 10: The FAQ.]