Old college chum, Steve Adams, struggles with a seeming limitation of iMovie on his iPhone. He writes:
I've been using iMovie on my iPhone to create little videos on the fly when I'm traveling for my work. Sometimes, though, I want to insert some video footage that isn't actually in the Camera Roll on the phone. I can't figure out any way to get outside video into the Camera Roll, and it seems that the only video that's available in iMovie is that which is in the Camera Roll. Got any solutions?
Remember in Music Theory 121 when Mr. Moon introduced us to French Augmented 6th chords and no one in the class understood a word of it because it seemed such a tortuous construction? Oh, wait, you were the one guy who got it immediately. Anyway, trust me on this, like importing movies from an outside source to iMovie on your iPhone, it was confusing. While I still can't explain the F+6th, I can shed some light on the method for editing movies not shot with the iPhone's camera.
The avenue for copying movie files from your Mac to iMovie for iOS is iPhoto. To do this, create a new album in iPhoto and call it something like "iPhone Movie Clips." Locate any MPEG-4 or .m4v movies you want on your iOS device (yep, it works with the iPad and the latest iPod touch) and add them to this album.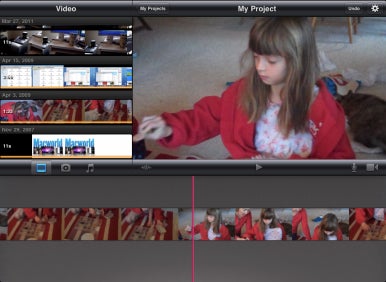 Now jack in your iOS device and, in iTunes' Source list, select your device. Click the Photos tab, enable the Sync Photos from iPhoto option, enable the Selected Albums, Events, and Faces option as well as the Include Videos option, and select your iPhone Movie Clips album from the list of Albums below. Sync your device.
Launch iMovie on your iOS device, tap the Video button, and scroll down the list of available videos. You should see your imported clips. (If you don't, force-quit iMovie on the device and relaunch it. If iMovie is running when you sync the videos, they won't appear until you restart iMovie.) If the clips don't appear, it's possible that the format is incompatible with iMovie. You can fix that by importing them into iTunes, selecting them, and choosing Create iPod or iPhone version or Create iPad or Apple TV version (depending on which device you're using).