Along with some new iPad-centric décor and an updated Apple Store app, Apple is introducing another new component as part of its effort to revamp its 10-year-old retail efforts. Customers at the Apple Store can now take the purchasing process one step further and have an employee help them set up their new Mac, iPod, iPad, iPhone, or Apple TV, thanks to the company's expanded Personal Setup program.
I was lucky enough to receive my very own Personal Setup demo on Monday afternoon at Apple's flagship store in San Francisco. Here are some initial impressions.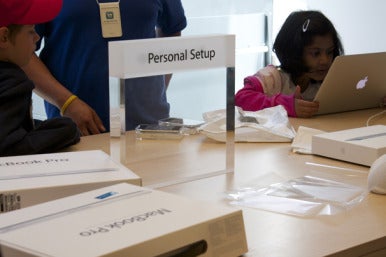 The concept behind a Personal Setup is pretty much self-explanatory in name alone: An Apple employee will personally walk you through the basics of setting up your device and getting it initially customized to your liking. It's not the first time the company has used the moniker—Apple also labeled the data transfer feature of its $99 One to One membership (available for purchase with any new Mac) with the name.
This new Personal Setup takes some cues from the One to One program, to be sure, but it's more focused on the immediate future: getting you ready to use whatever you've just bought. Apple Store employees will help you set up anything you buy in-store; for instance, if you purchase a MacBook Air, wireless printer, Airport Extreme, and Microsoft Office, before you leave the store, the employee will make sure everything's hooked up and functional. This way, when you bring these gadgets home, you won't have to spend half an hour bemoaning the apparent non-functionality of your printer because you missed a wireless setting somewhere. (If you want to be taught how to use the technology you've purchased, however, the Personal Setup is not so much the place—try a workshop or One to One session.)
For my Personal Setup, we eschewed anything overly complicated and went with one of the company's more-common in-store purchases: an iPod touch. The Specialist first asked me a few questions, to determine my competency level in regard to iOS devices—a plus, as that way we managed to gloss over most of the basics. (Really, the more often you can skip the "It's not about how hard you smash your finger into the screen, it's where you place it" lecture, the better.)
The Specialist first helped me unravel the mystery of the iPod touch packaging (last time I opened an iPod box, the device was ensconced in a carbonite-like plastic holster; now it's more of a sticky-tape maze), walked me through the contents of the box, then helped me hook the device up to an available MacBook Air to activate it. Once activated, we went through some simple starter steps: adding e-mail accounts, connecting my iTunes Store Apple ID, downloading some apps, and—as the iPod touch has no cellular connection—a primer on finding available Wi-Fi in the greater metropolitan area (a tough feat, to be sure).
After these steps, my iPod touch was pretty much ready to go save for some music, and that was an easy enough fix: I just hopped over to the iTunes app and downloaded a song or two for the road. In just 15 minutes, we'd transformed the iPod touch from lifeless technology-in-a-box to useable music-rocking, game-playing, Wi-Fi-finding superstar.
While I wasn't able to see this first-hand in my own setup session, as part of the new Personal Setup, new gadget owners will receive "one more thing" from Apple upon purchase—a customized e-mail message. Depending on what you bought, the company will tailor the e-mail to recommend workshops that might suit your needs, list some good tips and tricks, and—if you purchased an iOS device—suggest some good introductory apps to load onto your device. You'll also get a brief overview regarding Apple's Express Lane tech support and easy access to AppleCare's phone number.
I'll admit that as a former One to One trainer, it's hard not to be a wee bit biased in favor of these programs: For almost two years, I got to see on a daily basis how they transformed the way people used Apple's products. While Personal Setup doesn't have the depth of a One to One session or a workshop, it still gives you an opening into that world, where technology doesn't just need to sit in a box or on a shelf. And, when you come right down to it, that's what continues to make Apple's approach to retail special: What other store takes valuable time after the sale to continue helping you?
[Serenity Caldwell is a staff editor at Macworld.]