At a Glance
Expert's Rating
Our Verdict
I love application launchers. Utilities like Quicksilver, LaunchBar, and Alfred have, over the years, redefined how I used my Mac: Instead of relying on the Dock or the Finder, I trigger my favorite launcher, type a few characters of the name of the program I want to launch, press Return, and smile at how little mousing I had to do.
However, as much as I love keyboard launchers—and I do, plenty—I recognize that they're not for everyone. Just as keyboard junkies love doing as much as possible by pressing keys, mouse and trackpad devotees love their pointing devices. But even if keyboard launchers aren't for everyone, I remain convinced that application launchers are. Sapiens ( Mac App Store link) is a $5 application launcher from developer Giovanni Donelli that offers plenty of keyboard control, but focuses on the mousing side of things.
By default, you trigger Sapiens by moving your mouse in a circle—anywhere on the screen, no matter which app you're in. It's a simple mouse gesture, and you can perform your cursor spin clockwise or counterclockwise. You can also control how many circles are required before Sapiens kicks in (I chose 1.5), and you can exclude the program from "listening" to your mouse in specific apps—for example, in a game or a drawing application where you might end up moving the cursor in a circle that you don't want triggering Sapiens.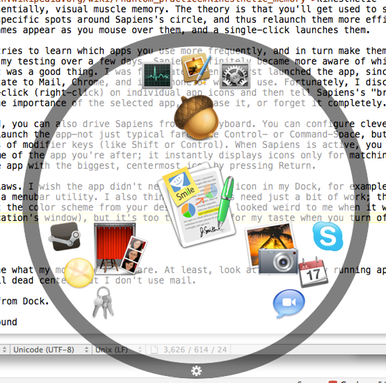 Sapiens's interface is a circle, too. You can choose from among a few different layouts—how app icons are scattered around that circle—but you don't choose precisely which apps appear and where. That's because Sapien's focus is on kinesthetic memory—essentially, visual muscle memory. The theory is that, over time, you'll get used to specific apps appearing in specific spots. Each program's name appears as you mouse over it, and a single-click on a program launches it.
Sapiens also learns which applications you're likely to want to launch and places frequently opened programs more prominently. As I used Sapiens, it definitely became more aware of which apps I open most often, and that was a good thing. The downside of this approach is that I was frustrated when I first launched Sapiens, since it initially gave prime real estate to Mail, Chrome, and iChat—none of which I use. Fortunately, I discovered that I could Control-click (right-click) on a program's icon in Sapiens and use the resulting menu to tell Sapiens to increase or decrease the importance of that application—or to forget it completely.
As I mentioned, you can also drive Sapiens from the keyboard, and keyboard shortcuts aren't limited to typical launcher fare such as Control-Space or Command-Space—you can opt for keypress sequences, such as a double-press of the Shift or Control key, to activate Sapiens. After doing so, you can start typing the name of the app you're after, and Sapiens instantly displays only icons for matching apps. You can launch the app with the largest, centered icon by pressing Return.
Sapiens does have its flaws. I wish the app didn't need to keep an icon in my Dock, for example; it strikes me as more of a menubar or appear-only-when-invoked utility. I also think the visuals need a bit of work. Sapiens can inherit the color scheme of your desktop, which can look odd when Sapiens floats over another application's window, or it can use a transparent appearance, which I find to be too transparent.
Still, once I configured the utility to my liking—demoting or removing lesser-used apps, turning off the too-slow animations, and the like—Sapiens was a fairly impressive utility. Personally, I try to keep my hands on the keyboard whenever possible, but if you're more of a mouser, Sapiens offers a well-implemented alternative to an overloaded Dock or unnecessary Applications-folder spelunking.
Lex Friedman is a Macworld staff writer.