Since the iPad's release, wirelessly sharing files between the tablet and Mac and Windows computers has become easier. For the most part, this is because many apps enable you to link and sync to cloud storage services such as MobileMe, Google Docs, and Dropbox. And dedicated apps like the $30 LogMeIn Ignition enable you to not only share files, but to actually control remote machines via your iPad or iPhone.
FileBrowser resides in the middle ground between these categories: it's a standalone app, like LogMeIn Ignition. And while Stratospherix's $4 app doesn't provide the same level of control (or access) as LogMeIn, it's a whole lot cheaper. Unlike apps that rely on cloud storage, you can set up your Windows or Mac machine to allow FileBrowser to browse, view, and copy to your iPad all files on your main computer (or computers) without using a storage service, either via Wi-Fi or the Internet.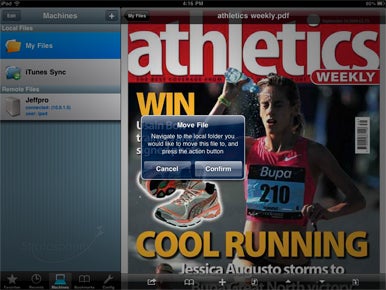 But FileBrowser is not as easy to use as either LogMeIn Ignition or most cloud storage services. For example, you'll have to set up your computer to allow for SMB file sharing, which isn't technically difficult but does require mucking about in the file sharing preference pane. After you have enabled SMB file sharing, you may encounter (as I did) some difficulties getting to folders on your Mac that you haven't been granted "permission" to access. These problems can be solved on the Mac by changing permissions; this is the way the system is supposed to work, and the process will be familiar even to those who only manage small networks. The process should be similar for Windows machines.
Once you've got your permissions set up the way you want, though, FileBrowser could be a real timesaver—and a convenience. It enables you to view files that reside on remote computers, including images, text, PDFs, videos—if the iPad or an iPad app supports a file type, FileBrowser can help you view it, either from within the app or by handing it off (via the "Open in" command) to another app. You can also copy files from your Mac or PC.
While testing the app I looked at old photos on the Mac as a slideshow on my iPad, viewed several video podcasts I hadn't transferred over using iTunes, and browsed and imported many types of documents. The app enables you to e-mail, open, view, print, rename, copy, and delete files, most of the time with a single tap on a drop-down menu.
You can set up your own file system within FileBrowser, but moving files from remote computers and within the file system you create is not an elegant process, requiring the use of copy and paste commands. It's awkward and requires practice, even if you are comfortable using the Mac's Terminal program or old enough to remember moving DOS files in a similar fashion.
As it is now, FileBrowser is a very useful utility program. But it could be much more powerful—and a "must have" for all iPad users—if its interface were more iPad-like.
[Jeff Merron is a freelance writer and editor living in North Carolina.]