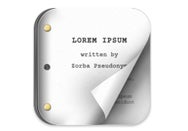 If you're in the film industry, you rely on scripts. Whether you're an agent, actor, director, writer, compositor, artist, reader, or producer, chances are that whatever project you're working on will involve a script (or ten) that you need to keep close at hand.
The iPad has made this reading process a lot simpler (and tree-friendly), but there are inherent limitations. For one thing, scripts have to first be exported into a compatible format like PDF, making the font size unchangeable without panning and zooming. Enter FDX Reader—an app for reading Final Draft script files natively on your iPad.
The brainchild of screenwriter John August (Big Fish, The Nines, Corpse Bride), FDX Reader is as simple as its name suggests: The app is designed to read and display script files in the Final Draft (.fdx) format. Scripts can be brought in via the Dropbox app, Safari, or e-mail using iOS's "Open In" feature, as well as via File Sharing in iTunes; from there, you'll be flipping through a script in no time.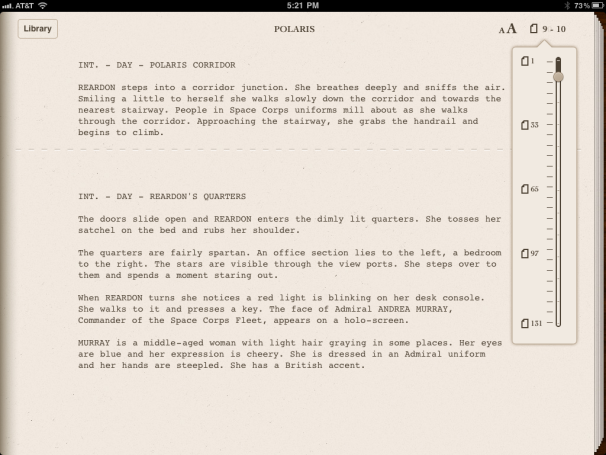 The reading interface largely resembles Apple's iBooks app, offering a sepia-toned background for scripts, adjustable font sizes, and a pop-up scene selector, allowing readers to skip to page or scene numbers as they see fit. And even though the text size is adjustable, you won't lose formatting or page breaks: They're preserved and denoted with a dotted line.
The app has few features beyond these: It's primarily focused on the reading experience, rather than script annotation or fancy alterations. Currently, the only file format supported is Final Draft 8's .fdx, based on the XML Web standard; earlier .fdr files are proprietary and thus harder to port without direct support from Final Draft itself.
This is Quote-Unquote Apps's first iPad venture; the team is also responsible for Safari extension Less IMDB. You can purchase FDX Reader from the App Store for $8; it's available for any iPad or iPad 2 running iOS 4.3 or later.
Read more…