As Memorial Day and summer vacations approach, the travel season is just about to heat up. But you don't have to resign yourself to hefting unnecessary equipment through airport security or sweating out the frustrations of hotel computer connectivity. These veteran travel tips can make traveling with your Apple gear much more fun.
1. Ditch your laptop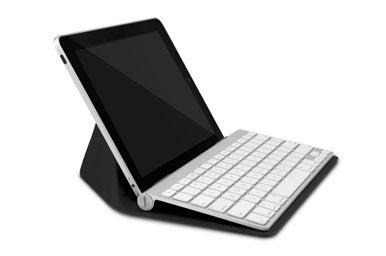 If you don't want to lug your laptop with you on a trip, consider bringing an iPad (or even an iPhone) along with a Bluetooth keyboard such as the $69 Apple Wireless Keyboard ( ) and a lightweight and compact iPad stand such as the $30 Incase Origami Workstation, Michiel Cornelissen's $20 PadFoot, or the $18 Arkon iPad Travel Stand. That way you can answer e-mail and do other keyboard-intensive things without the extra weight of a laptop.
Using the $39 Apple Digital AV Adapter or the $29 Apple VGA Adapter, you can even use the iPad to give Keynote presentations.
2. Make your own Wi-Fi
If the hotel where you're going to stay doesn't have wireless connectivity in the room, consider bringing a $99 Apple AirPort Express ( ) along. You can attach it to the wired Ethernet and then use it to transmit a Wi-Fi signal, so you can use your laptop, iPhone, or iPad from anywhere in the room. As a bonus, you can also use the AirPort Express's USB port—designed to let you connect a printer—to charge an iPhone or iPod (though not an iPad).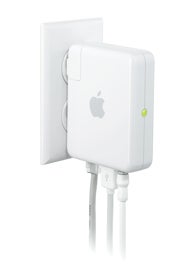 Optionally, if you've brought a laptop and have an additional wireless device—an iPad, for example—create a wireless network on your Mac that you can then share with your iPad.
3. Use 3G when Wi-Fi is too slow
Even when hotels provide free Internet access in the room, that access is often horribly slow. If you have an iPhone or iPad with 3G with you, consider using its 3G connection as your access point rather than the hotel's broadband. You may discover that it's faster than what the hotel delivers. If you have a Bluetooth tethering plan, all the better. Use it to connect your laptop to the Internet.
4. Skip the hotel pay-per-view
If you've got an iPad or iPhone 4, bring a $39 Apple Digital AV Adapter ( ) and an HDMI cable. If you're staying in a hotel that's upgraded to HDTVs, you can plug right in and play your own favorite videos right off your device rather than using the hotel's pricey pay-per-view system to play some mediocre rom-com. Note that some hotel TVs are set up incorrectly—they're configured to display a resolution such as 420p that's less than they're capable of. If the picture doesn't look right, try to access the TV's setup screen and increase the resolution.
Another option is to bring Apple's $39 Component AV or $39 Composite AV cables, or Scosche's $60 combination cable, which might offer greater compatibility with the range of TVs in hotels.
5. Minimize your adapters
Travel light: an iPad charger can also charge an iPhone, so if you plan your charging carefully, you need to bring only a single adapter to charge both. (Note that an iPhone charger can charge an iPad, but more slowly than the iPad's own charger, so go with the iPad charger.)
6. Consider a travel-friendly cable kit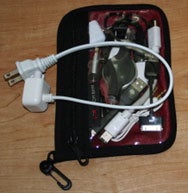 Whether for charging or connectivity, you need cables in your travel bag, but they add both weight and clutter. Instead of paring down the number of cables you pack—which runs the risk of not having the particular cable you need for some vital task—you can make those cables smaller and lighter. For instance, instead of a 6-foot USB cable, try a 6-inch version; leave behind your iPhone's long USB dock-connector cable and instead bring a 3-inch version.
By swapping all your cables for travel-friendly versions, you'll have a bag that's both lighter and neater. It's also less of a hassle to pack, as you can leave the long ones plugged in at home, with the "travel kit" always at the ready. (You can get short cables from accessory vendors such as OWC, CableJive, Fruitshop, MonoPrice, and USBFireWire.com, as well as from Amazon.com.)
7. Sync with kids in mind
An iPhone, iPod touch, or iPad can be a perfect family travel companion whether you're traveling by plane or car. (See Jason Snell's story "How Apple devices saved me thousands on my new car"). But do you really want to pass one of them to the back seat and have your child fire up Scarface? Common sense though it may seem, parents busy with road-trip preparations often forget to pack their devices with kid-friendly content.
Consider creating Vacation playlists in iTunes to sync with your iPad or iPhone right before you leave. That way you can prepare special content without messing up your work-a-day settings. (Just sync to your regular playlists when you return.)
For some kid-friendly app suggestions, see our favorites for toddlers and preschoolers, as well as for elementary school kids. We also rounded up great interactive books for little kids. Depending on your summer destination, you might also check out our collection of "Top-Rated Disney Theme Park Apps." Browse through all our app collections here.
8. Bring a battery backup
If you've loaded up your iPhone or iPod touch with kid-friendly fare, the last thing you want to see is a "10 percent battery remaining" warning. A cheap, no-name, rechargeable battery pack—such as the $7 Stitchaway UltraPower or $20 iPowerCase—that plugs into the dock-connector port can effectively double the time your kids can spend playing Tozzle, reading virtual Dr. Seuss books, and watching Pixar flicks.
Remember tricks to extend battery life, too: Go to the Settings app and choose Brightness to dim the screen as much as you can comfortably. While you're in the Settings app, turn on Airplane Mode to disable Wi-Fi, 3G, and Bluetooth whenever possible.
64GB iPod Touch (fourth generation, late 2010)
Price When Reviewed:
$279
32GB iPhone 4 (GSM, AT&T)
Price When Reviewed:
$599
MacBook Pro (early 2011) family
Price When Reviewed:
$1124.95
iPhone 4 32GB Black (CDMA, Verizon)
Price When Reviewed:
$549