Consumer Reports really likes Apple's laptops; its tests found that Apple's MacBook Pro and MacBook Air were the best 17-inch, 15-inch, 13-inch and 11-inch laptops available. And, based on the results of a reader survey, the publication also ranks AppleCare as far better than any of Apple's competitors' tech support offerings.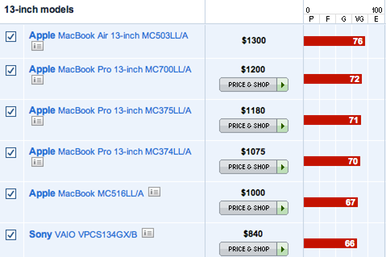 The publication compared only three 11-inch laptops, but the 11-inch MacBook Air's score of 62 points on the Consumer Reports scale beat out competitors from Gateway and HP by six and 13 points, respectively. In the 13-inch category, five of Apple's laptops took top spots: The 13-inch MacBook Air came in second, with three configurations of the 13-inch MacBook Pro and the current standard configuration 13-inch MacBook also receiving high marks.
In the 15-inch category, MacBook Pros took the top three rankings, scoring 78, 77, and 76 points for the 2.53GHz Core i5, 2GHz Core i7, and 2.4GHz Core i5 models, respectively. And in ranking the biggest laptops of the bunch, Consumer Reports said that two models of the 17-inch MacBook Pro edge out competition from the HP Pavilion and Dell XPS.
Apple's competitors can take some solace in that the company didn't even make the list for Consumer Reports's best 14-inch laptops—though the fact that Apple doesn't make a 14-inch laptop may have something to do with that. Of course, several of the Mac laptops that Consumer Reports tested for these ratings were actually older models, including 13-, 15-, and 17-inch MacBook Pro models from mid-2010, in addition to some of the early-2011 editions. Apple probably doesn't mind too much, since even the older Pros were enough to beat out competitors, but one imagines a few tears are being shed (or hairs are being pulled) at Dell, Gateway, HP, and the rest.
Consumer Reports also published its latest rankings, based on reader surveys, for tech support and Apple took first place there, too. Readers awarded AppleCare a score of 86 points, dwarfing the competition; Lenovo/IBM came in second place with just 61 points. Both Apple's phone-based and online support scored the magazine's highest possible ratings, which no other company achieved in either category. Readers also reported that 80 percent of their technical issues were solved by Apple's tech support, while the next best companies—IBM and Dell—solved issues only 57 percent of the time.
Consumer Reports has long had mixed affections for Apple; while the company's computers have often come out well, the publication notoriously refused to endorse the iPhone 4 in the wake of Antennagate, despite the device's otherwise high ranking.
Updated 5/26 at 7:46 a.m. PT to reflect that Consumer Reports has changed its rankings since the writing of this story. We've reached out to the publication for clarification.
MacBook Pro (early 2011) family
Price When Reviewed:
$1124.95