On Wednesday Hasselblad announced its newest medium-format digital SLR camera, the 200-megapixel H4D-200MS. The professional-grade camera costs around $45,000 (32,000 Euros), which comes out to about $225 per megapixel.
The H4D-200MS is not actually packing a single 200-megapixel sensor. Instead, the camera uses Hasselblad's multi-shot technology to combine six consecutive shots taken on the camera's 50-megapixel sensor into one higher-resolution final file. The sensor is moved in 1 or 1/5 pixel increments before each photograph in order to collect the maximum amount of information for a scene.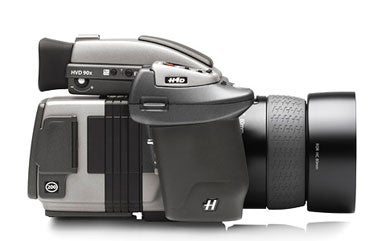 In addition to this six-shot mode, the camera can also shoot four-shots and combine them together, as well as take regular, single-shot photographs. The multi-shot technology is for capturing still-life and product shots inside a studio, as it requires an absolutely still scene for up to thirty seconds. However, the single-shot mode can be used to capture live, moving subjects outside of the studio.
Hasselblad is offering upgrades for H4D-50MS owners for about $9,800 (7,000 Euros). The camera will need to be shipped to the Hasselblad factory in Copenhagen, Denmark where its firmware and hardware will be updated to transform the camera into a H4D-200MS.