One of the main reasons Mac users avoid Apple's automation utility, Automator, is because they believe that to do anything worthwhile with it, you have to create complex workflows. If you count yourself among this group, allow me to disabuse you of the notion by providing you with a one-step-yet-useful workflow that allows you to create iCal to-do items from within any application. This workflow makes it a cinch to keep track of all the little things you need to do, but might otherwise not take the time to enter into iCal.
Launch Automator (in /Applications) and in the sheet that appears select Service. Click Choose. Configure the pop-up menus at the top of the workflow window to read Service Receives No Input in Any Application. From the Library pane select Calendar, choose the New To Do Item action, and drag it into the workflow area. In the action that appears, choose the calendar you'd like to act as the default for your to-do items. (You can always pick another calendar when you create the to-do item.) Similarly you can configure the default priority, due date, and alarm settings.
Click the Options button at the bottom of the action and enable the Show This Action When The Workflow Runs option. Save your workflow (File -> Save) and name it Create To Do.
Now, launch System Preferences, choose Keyboard, select the Keyboard Shortcuts tab, and click on the Services entry in the window's first pane. In the second pane, scroll down to the bottom of the list to find your Create To Do service. Click to the right of it to bring up the keyboard command field and enter the keyboard command you want to use to activate the service—Command-Option-7, for example.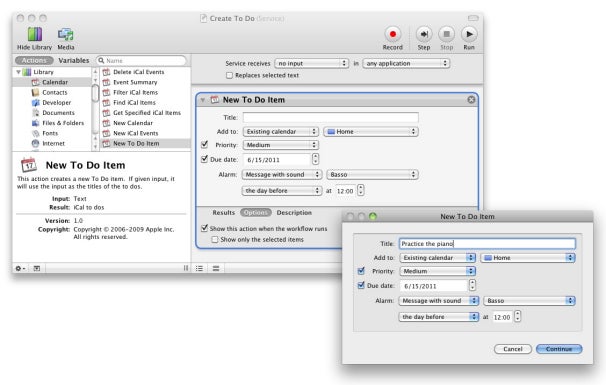 Now whenever you want to create a to-do item, just press Command-Option-7. No matter what application you're working in, a New To Do Item window will appear where you can give your to-do a name, choose an iCal calendar to add it to, and configure its priority, due date, and alarm (alternatively, you can use the default settings you chose when originally setting up the action).
You say you prefer to add real calendar events to iCal rather than to-do items? That's easily done. In Automator, go back to your workflow and replace the New To Do Item action with the New iCal Events action. As with the New To Do Item action, click the Options button and enable the Show This Action When the Workflow Runs option. Save your workflow with the same name. The other settings you configured still apply. Just press Command-Option-7 when you want to create a new iCal event.