One of my favorite mobile capabilities comes courtesy of third-party apps like Shazam Encore and SoundHound, where you can use your phone to identify songs that happen to be playing in the background, on the radio, in a coffee shop, or wherever you happen to be.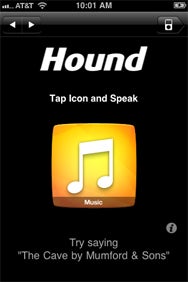 The process—launch the app, tap a button, capture a snippet of the song, and wait for the app to return results—is all pretty snappy. But SoundHound, maker of the self-titled music recognition app, thinks it can go even faster. To that end, the app maker on Thursday introduced Hound, a music search tool driven entirely by your voice.
Instead of holding up your phone to capture a snippet of sound, with Hound, you merely tap the music icon and say the name of an artist or a song. Tap again when you've finished speaking, and Hound will return a prompt set of results. In my initial testing of the app, it took Hound only a few seconds to churn results on everything from "Born This Way," by Lady Gaga to Wolfgang Mozart.
For artists, those results include a discography, a list of top songs, and YouTube clips. You'll also find links to Wikipedia and Pandora, as well as a list of upcoming concert dates for artists on tour—from there, you can e-mail yourself the date as a reminder or post that you're attending via Facebook. (Indeed, Hound lets you share your all your search results via Facebook as well as through e-mail and Twitter.)
Results for specific songs include lyrics. If you've got the song stored on your iPhone or iPod touch, an icon lights up, allowing you to play the song directly from within Hound, without having to launch the iPod app. And of course, results for both artists and songs are peppered with links to Apple's iTunes Store.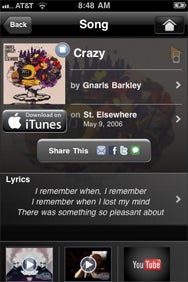 The idea, SoundHound vice president Katie McMahon explained to me, is to make search faster and more accurate. When talking about music with a friend, you no longer need to jot down notes for later searches or fumble your way through Google search results that may or may not contain the music you're looking for. "You can stop typing and tapping," McMahon says.
While the initial release of Hound focuses solely on music, SoundHound promises that future releases will expand the app's voice-driven features search to other areas. The company is mum about specifics, but McMahon said that those areas would include "what you do often on your phone every day." A clue of sorts is provided by Hound's current interface, which is dominated by a music icon—I can see icons for other iPhone functions like contacts and Web searches popping up alongside that musical note in future updates. That would mean that not only would Hound be competing with music discovery apps like Shazam, but also with voice-driven search tools like Dragon Search, Google's iOS Search app, and even Siri, a voice-driven app for booking restaurant reservations and hailing cabs that Apple happens to own and could even integrate into future versions of iOS.
Hound is available for the iPhone and iPod touch from the App Store. (It will run on the iPad as well, though not in optimized form.) An Android version of Hound is also available.