Attention: The Mac App Store isn't the only game in town. Amazon on Thursday quietly unveiled its Mac Software Downloads, a selection of around 250 Mac applications and games that you can purchase and install without ever having to open a box. While Amazon has been selling downloadable Mac software for some time, grouping those together into a single section is new. The Internet retailer is also offering a $5-off coupon to celebrate the "launch" of its Mac download store.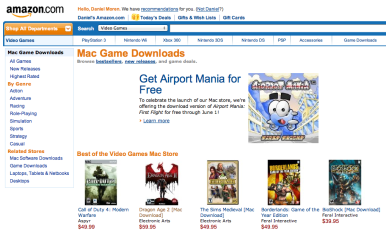 "The Mac Download Store is a one-stop shop where customers can get the most popular games and software products for Mac from Call of Duty to Microsoft Office," an Amazon PR rep told Macworld. "Amazon will continue to build out the broadest selection of titles across these categories in the next several months. Amazon's Mac Download store features an install-less download process where the customer gets just the product without any unwanted extras, making for faster and easier purchases. Plus, downloads are conveniently backed up in your Games and Software Library where you can download an unlimited number of times for personal use."
The Amazon representative said that as a launch promotion, the company is offering customers free downloads of the game Airport Mania: First Flight as well as offering a $5 discount on their first download for the first week for all games and software with the code SAVE5MAC.
While available titles include high-profile software like Microsoft Office and Intuit's QuickBooks, as well as popular games like Call of Duty 4 and Dragon Age 2, there's a dearth of products from the indie software market. There also doesn't seem to be any substantial discount on the electronic versions: a download version of Microsoft Office for Mac 2011 Home and Student Edition Family Pack cost $115, versus a shipped version at $117 (shipping not included). And while Dragon Age 2 will cost you $60 to download, a boxed DVD costs $42—and it's eligible for free shipping. Some titles seem about the same price on Amazon's store and the Mac App Store: The Borderlands Game of the Year edition, for example, runs $49.99 on the Mac App Store and $49.95 on Amazon.
Once you've purchased an application or game, you can re-download it as many times as you want. However, Amazon warns, different manufacturers may have different restrictions on how many machines you can install software on with a single license key. For games, Amazon says it will allow you to request an additional product key for no extra charge if you run out of installs on the key you bought, though it also says that such installs are "for personal use only" and not for friends and family.
To download an app, Amazon relies on its own Game/Software Downloader software, which it says will launch automatically for Mac users when they download their first application. As for updates, expect a process that's not quite as smooth as the Mac App Store. While some programs may prompt you for updates and patches on their own, Amazon says that for others you may need to visit the manufacturer's site. And while trial versions are available for PC downloads, that feature hasn't yet made its way to the Mac.
Software purchased from Amazon's Mac Software Downloads requires Mac OS X 10.5 or later.
[Updated on 5/26 at 12:53 p.m. to clarify the store and add information about the discount offer. Updated at 2:34 p.m. to add comment from Amazon PR.]