I'm a big fan of bird identification apps, so I was thrilled to learn that Peterson Field Guides in tandem with Appweavers had created a new birding app for iOS devices. Peterson Birds of North America is a digital version of Peterson's well established collection of high quality field guides, and is optimized to work on all iOS devices. The app features a database of more than 800 birds and 700 recorded bird calls or field-recorded bird sounds. Unfortunately, the Peterson guide wasn't all that I'd hoped it would be.
Since the Peterson Guide is a universal app it works in almost exactly the same way on the iPad as it does on the iPhone and iPod touch. Launching the app brings up a grid of birds organized by family groupings, such as woodpeckers, hummingbirds, and flycatchers. On smaller iOS devices, five other options appear below this grid where you can select menu items for browsing and searching the database, or view sighting lists that you've previously created. On the iPad, these same options are available on the right-hand side of the screen once you select a family grouping.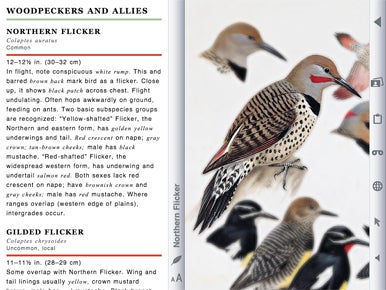 Tapping one of the bird groupings in the grid takes you to a new screen displaying several birds from the family you've selected. Tapping one of the birds in the new window provides very basic information on the bird that you've selected. On the iPad, this means that all the other birds but the one you've selected on the screen are blurred slightly and the name of your selected bird is displayed on a small bar on the left-hand side of the screen. On your iPhone, a similar bar appears at the top of the screen displaying the bird's name and a small scrolling field with basic identification information.
Unfortunately it took me quite a while to locate more detailed information about my selected bird. In short, documentation for the app is not obvious—you'll find it hidden under the Extras menu—and the user interface doesn't lend itself to discovery. It took me an hour of playing with the app to finally figure out that tapping a small feather on the menubar in portrait mode, or flipping the iPad into landscape mode would reveal more information on the bird I'd selected. Embarrassing, I know, but incredibly un-obvious until I finally figured it out.
Once I'd mastered the app's secret handshake, both versions offered excellent bird information and tools for managing life lists—including recordings of bird calls—and the Peterson drawings have no equal among birding field guides. But the sheer effort initially required to access that information was more than should be necessary for any iOS app.
Mitch Waite's iBird Pro HD is the iPad-only bigger brother to the handy pocket-sized version that has been my favorite birding app and constant iPhone companion for the last couple of years. iBird Pro HD provides access to the same extensive database of bird identification information, including a bird's size and flight pattern, range, habitat and nesting information, and the types of food each bird eats. You will also find audio of bird calls for the bird you have selected and, if other birds have similar sounding calls, iBird Pro HD provides the option to listen to those calls, helping you to better identify what you've heard. One of iBird Pro HD's other benefits is a stellar collection of field photos that grows as each new version is released. Combined, these features make all the iBird apps a superb birding resource.
Unfortunately, while I love the smaller version of iBird because of its excellent design and elegant simplicity, I found iBird Pro HD to be a bit clunky. There are two menus at the bottom of the screen, one scrolling and the other a menu that you tap, that offer the same exact features. The scrolling menu can be hidden, but the reality is that it is entirely unnecessary. Also, many of iBird Pro HD's features, such as Birdpedia and the reference guide, are unavailable if you have no access to the Internet. A cleaner interface and some way to access all of the app's data in the field without requiring the Internet would go a long way toward making this app great.
[Jeffery Battersby is a regular contributor to Macworld. Get more Jeff than you want on the Revenge of the Fanboy! podcast and at his Website.]
Note: When you purchase something after clicking links in our articles, we may earn a small commission. Read our affiliate link policy for more details.