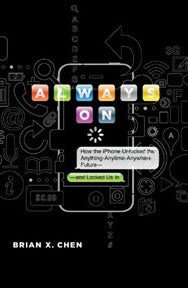 This week I'm joined in the podcave by a Macworld alumnus, Wired's Brian X. Chen. Brian's the author of a new book, "Always On: How the iPhone Unlocked the Anything-Anytime-Anywhere Future… And Locked Us In," which comes out next week. The book is about how the iPhone, and more generally the prospect of always having a connected device with you, has changed our culture and society and threatens to create even more change in the years ahead.
Brian and I talk about Apple's (and Starbucks's) tendency toward a "vertical integration" philosophy and how it creates great products and great profits; we discuss the debate about whether all this technology makes us smarter or dumber; and muse about the implications of Apple and other companies gating Apps, content, and more.
Download Episode #246
• AAC version (13.3 MB, 35 minutes)
• MP3 version (14.4 MB, 35 minutes)
In addition to Brian's book, I mention the article he wrote for us about how testing printers was killing him.
To subscribe to the Macworld Podcast simply click here. Or you can point your favorite podcast-savvy RSS reader at: http://rss.macworld.com/macworld/weblogs/mwpodcast/
You can find previous episodes of our audio podcasts at Macworld's podcasting page.
Have any feedback on this podcast? Send regular podcast host Christopher Breen an e-mail; audio comments in the form of an AAC or MP3 file are particularly welcome. You can also leave us a message at 415/520-9761 if you'd like to have your comments included in a future podcast.
This episode is sponsored by Many Tricks.